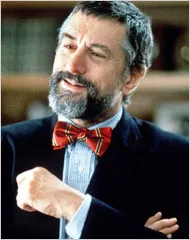 George Zimmerman's new press agent has a few thoughts on Syria.
George Zimmerman's new press agent has a few thoughts on Syria.
It's bizarrely ironic how the term "wag the dog" has become almost synonymous with utter gullibility. These days, when somebody responds to a current-events story with the remark "It's just like that movie Wag the Dog," the odds are strong that the guy is an undiscriminating conspiracy junkie who will believe any crackpot theory the Internet can puke up all over him.
What's sad about that is that it reduces news analysis to an all-or-nothing proposition; it crowds out nuance. There's no room left to process the numerous instances in which our deepest suspicions may not be borne out by the facts, but the official version of events doesn't pass the smell test, either.
Witness the reaction to the curious tale of George Zimmerman's highway Good Samaritan act. When it was revealed that the Mad Killer of Sanford had helped pull a family from their overturned SUV, a lot of people's bullshit detectors went off. Coming just a few days after Zimmerman's highly controversial exoneration, such an overt show of heroism had to be a publicity stunt – right?
It depends on how broadly you want to define the term. Clearly, there was an accident: Numerous witness and 911 calls attest to that. And anyone who would believe that a confederate of Zimmerman's would willingly flip his vehicle just so his buddy could play rescuing angel – well, there are state-run care facilities for people like that.
The Ford Explorer: Like a barbell for doughy vigilantes.
The Ford Explorer: Like a barbell for doughy vigilantes.
So the issue became Zimmerman's allegedly suspicious presence on the scene. One site – which I won't link to – claimed to have discovered the name of the investigating officer in question, and revealed that he seemed to have a history of making pro-Zimmerman comments on social media. That would raise some eyebrows, all right – but the site went further, claiming to have obtained the lawman's cell-phone records, which supposedly included a tipoff call or text to Zimmerman just before the latter arrived at the accident site.
A private party that could obtain such phone records would be an intrepid watchdog indeed – which is probably why the site didn't bother to link to those records, or to offer any other proof of their existence. There's also the nagging little matter that, according to all known versions of the event, Zimmerman had arrived at the scene of the accident before law enforcement got there, not after.
Instead, it might be more productive to question the abrupt cancellation of a press conference in which two of the rescued passengers – since identified as parents Mark and Dana Michelle Gerstle – were going to give their version of the tale. According to Zimmerman attorney Mark O'Mara, the Gerstles had requested the press conference, then pulled out when they realized that making any comments that could be construed as supportive of Zimmerman might compromise their safety in the heated post-verdict period.
That story is fairly ludicrous on a couple of levels. First of all, if you believe that O'Mara would need it suggested to him that a pro-Zimmerman press conference might be a good idea, you haven't been paying much attention to his M.O. for the last year. Second, were the Gerstles genuinely concerned for their well-being, they likely wouldn't have agreed to the presser in the first place.
A couple of alternate theories seem more capable of holding water. The first is that the Gerstles initially agreed to speak on Zimmerman's behalf, but ultimately demurred because they were turned off by the way his camp was exploiting the situation. The other, far more cynical option is that they simply wanted to be paid for contributing to the emergent pro-Zimmerman cottage industry that astute observers like TruthOut's Greg Palast see forming. Sadly, we may never know what actually went down.
"Did I ever tell you that Hitler was an Eagle Scout?"
"Did I ever tell you that Hitler was an Eagle Scout?"
But what's sort of remarkable is the Karl Rovian skill with which O'Mara has been able to spin the story so it seems to be saying the exact opposite of what the evidence shows. To a good portion of the public – roughly the same portion, I'd warrant, that believes the trial "proved" Zimmerman's self-defense claims – the takeaway from the SUV incident is that this perennial do-gooder once again tried to do something nice, but that nobody can thank him publicly because they're all sorely afraid of the race hustlers who have made his life a living hell. Meanwhile, the facts we can discern actually disprove most of that, and undercut severely the narrative O'Mara has been pushing for what seems like forever.
Remember, the idea that death threats have been pouring into the Zimmerman household is one that has come mostly from O'Mara himself (aside from the documented fatwa by the New Black Panthers – a group that seems to have slightly less members than the Dhzokhar Tsarnaev fan club). But the concept of a black America allied violently against Zimmerman isn't one O'Mara has to work too hard to sell to many whites; it's part and parcel with the "Trayvon was a thug" narrative he peddled so successfully, and similarly without evidence. Meanwhile, too few pundits are noticing the highly illustrative detail that George Zimmerman -- the hopeless non-athlete who purportedly wasn't strong enough to hold his own in a fight with a child even before he went to fat -- seems to have had no trouble pulling two grown adults and their kids from an auto wreck.
"I hereby proclaim George an Operating Thetan!"
"I hereby proclaim George an Operating Thetan!"
There's more. Since the shooting, O'Mara has claimed that Zimmerman is a fugitive who can't visit his old haunts securely. Yet the SUV accident took place a veritable stone's throw from the very site at which Zimmerman killed Martin. Plainly, this supposed pariah has no qualms about hanging around the old burg. And remember O'Mara's assertions that Zimmerman cannot venture out in public without wearing a disguise? Somehow, Mark Gerstle was able to recognize his rescuer right away: One of the first things he told firefighters was that George Zimmerman had pulled him out. He did not say, "I was rescued by somebody who looked a bit like George Zimmerman, only wearing Groucho glasses."
Pushing the myth of Zimmerman the persecuted would-be guardian is crucial for O'Mara. It helps deflect attention from the fact that his client's wife is about to be tried for perjury – a trial that could remind a forgetful populace that this entire family are not only congenital liars, but clumsy ones to boot. By capitalizing on every chance to paint George Zimmerman as the innocent victim of a world gone mad, O'Mara improves his chances that the media and the public will simply tune out Shellie's trial, dismissing it as one more speed bump in the life of a well-meaning guy who has suffered enough. If the media dare to revisit the Zimmermans' pathetic money-hiding scheme, the public will think the media are piling on, and the media will dutifully retreat. The truth will get swept under the rug, because that truth just won't fit the reality O'Mara has so carefully created for all of us.
I swear, it's just like that movie Wag the Dog.
Related content:
----
Days without a response from the publication that plagiarized from me and won't come clean: 38.
Follow me on Twitter: @Schneider_Stv