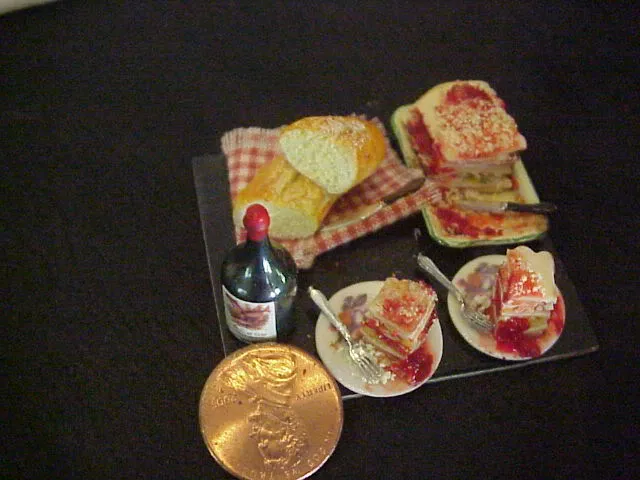 We don't make a practice of blogging about every little restaurant special that comes down the pike, but there's just something about
free
that we like. Also, the idea of Buca di Beppo, usually home to
Brobdingnagian horse-trough type portions of yummy gigantofood,
making teensy individual portions of lasagna made us giggle. (We just love tiny food.) Worth a trip to
your nearest Beppo
 anyway. Details for scoring your very own
baked, cheesy pastababy
 can be found by clicking "next page," below.
Buca di Beppo celebrates National Lasagna Day
starting on July 29
With FREE Individual-Sized #BucaLasagna 
Las Vegas, Nevada (July 22, 2013) – Family-style Italian restaurant Buca di Beppo is offering free lasagna in celebration of National Lasagna Day. From July 29 through August 4, guests who purchase any Buca pasta, baked pasta or entrée will receive a free individual-sized portion of lasagna at no additional cost.  The Lasagna Day portions are available in special flavors including Classic Lasagna, Chicken Lasagna or Veggie Lasagna. Made fresh daily, Buca di Beppo's classic lasagna is famous for its nine towering layers of lasagna noodles stuffed with chunky homemade meat sauce and a combination of ricotta, mozzarella, provolone and parmesan cheeses. The origins of lasagna date back to the 1st century B.C. where a food called "lagana" was a common meal consisting of fine sheets of fried dough. In the 2nd century Athenaeus of Naucratis, a Greek scholar, provided a recipe for lagana that was made with sheets of wheat-flour dough and the juice of crushed lettuce, then flavored with spices and deep-fried in oil. An early 5th century cookbook describes a dish called lagana that consisted of layers of dough with meat stuffing, a possible ancestor of modern-day Lasagna, though the first concrete information concerning pasta products in Italy dates from the thirteenth or fourteenth century. The word "lagána" survives today in modern-day Greece to denote an unleavened, flat bread eaten during the Great Lent.* Terms of the program: The Buca di Beppo free lasagna offer is valid for dine-in only customers Monday, July 29, through Sunday, August 4, 2013.  To receive a free individual-sized portion of the lasagna, guests must also purchase a Buca pasta, baked pasta or entrée.  The free lasagna is not valid on Buca To Go orders, lunch items or pizza.  For more information, please visitwww.bucadibeppo.com.