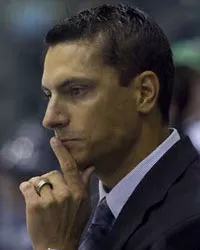 We might still be mourning the loss of coach Drake Berehowsky (who we named "Best One-Hit Wonder" in our 2013 Best of Orlando awards), but we are hopeful to see that the Orlando Solar Bears are making some progress in finding a stacked coaching staff.
The Orlando Solar Bears recently named Brad Tapper assistant coach to head coach Vince Williams for the upcoming ECHL hockey league season. Tapper comes to Orlando by way of the Florida Everblades, where he served as assistant coach for three years and led the team to a Kelly Cup championship win in the 2011-12 season. He is also a former Solar Bear player, seeing action in 47 games during the team's Turner Cup Championship season in 2000-01.
"Brad is a great addition to the Orlando Solar Bears coaching staff and organization," said Head Coach Vince Williams. "He will be a valuable asset to the personal and professional growth of our players."
The Solar Bears kick off the 2013-14 season on Friday, Oct. 18 by traveling to play against Tapper's former team, the Florida Everblades. The Bears will host their first home game, a bout against Gwinnett, on Saturday, Oct. 26.
Season tickets are currently on sale and can be purchased on the Orlando Solar Bears website.