I've been reading the Ender's Game Saga on and off for about eight years, since a friend thrust the first book into my hands and demanded I read it. I read it and liked it, and read more.
Unlike other series I've read though, I haven't been able to blow through them one after another. They're different. They're paced different. They're not really that concerned with plot as much as the people stuck in the plot. There is an awful lot of thought, research and intelligence that goes into each book. There is empathy. A lot of empathy, for humans, bugs and piggies alike. A level of empathy that makes Orson Scott Card's continuing series of bigoted rants all the more confusing and hard to reconcile with a book like Speaker for the Dead, which is entirely about understanding the complexities and differences of all life forms.
How could someone who advocates for the buggers and pequeninos not advocate for gays and lesbians?
How, as the most recent rant goes, could he spend so much time on the nuance of a character (SPOILER) who is so internally splintered after committing a genocide and then compare Obama to Hitler and the Ayatollah? (END SPOILER)
But I knew about the rants before. They're getting more play now because the movie is coming out soon, but they've always existed with extreme unease alongside the novels. I've been recommending them for years, but always with the caveat that Orson Scott Card is kind of a Mormon nut job. I've always recommended that to buy the books used (as to not put any money into his pockets, and thus the Mormons' pockets, as is their obligation) is the best way to go about it, to at least free yourself of some of the guilt that comes along with enjoying the art of someone you will probably end up despising.
But when the movie promotion machine began, they forgot that all too important caveat, hoping to sweep the nonsense under the rug. Look at the mess it's caused. Calls for boycotts and intense social media angst as people discover what a shitty person Card is now and has been one certain issues, following with a deep wish that the writer could be removed from his work.
But it's not the first or last time the collective audience has wished we could remove and artist from their work.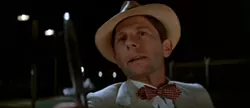 There is surely no one higher atop of the list of people who'd we'd collectively like to remove from their work than Roman Polanski, the controversial director whose success was bred from a life of tragedy, who then turned around and willfully inflicted tragedy on another.
Polanski, who turned 80 today, survived the abject horrors of life in Nazi occupied Poland, but saw his mother shipped off to Auschwitz, where she died.
He overcame that to make good in film, possessing the uncanny eye and dark vision that helped him craft films like Knife in the Water, Repulsion and Rosemary's Baby, but saw his pregnant wife Sharon Tate stabbed 16 times by the Manson Family.
His films took an even darker turn from there with a retelling of MacBeth and he made the best film of his career, Chinatown, but then he drugged and raped a thirteen year old girl and fled the country in disgrace to avoid a long prison sentence.
But he never lost his gift as a filmmaker, which is in some ways maddening. He continued on after a short spell when he was unemployable and made some very good films, like Frantic, The Ghost Writer and Carnage, and one more great film, winning an Oscar for The Pianist, the harrowing account of a man scrounging and hiding to avoid the Nazis in Poland that comes from a place so personal for Polanski it's hard to imagine. The film is so affecting I've never been able to watch it a second time.
Card had his own personal tragedies, of course. Two of his children have died at young ages, and he suffered a mild stroke in 2011. But like Polanski, that doesn't really excuse anything. It does beg the question though: is the art more important than the artist?
If, to paraphrase Francis Ford Coppola, film is the last dictatorial position available (Ayatollah isn't an available position, I guess), shouldn't we expect to loathe some of the people who make the films (and music, and novels, etc) that we end up loving?
This isn't a new problem, we've just facing it in a new way, in real time thanks to social media. But reaching back into history, you meet John Ford, John Wayne and Ward Bond, who all made great films together and all held terrible political and social views post-WWII (though John Ford initially came to Hollywood as a left winger who, supposedly, supplied money to the IRA in the 1920s, according to Joseph McBride's biography of Ford).
Ingmar Bergman shocked everyone when he admitted to being an early Nazi sympathizer who was taken by Hitler's charisma before, he says, discovering the horrors of the camps.
Then there was Thea von Harbou, who wrote classic films like M, Metropolis and Dr. Mabuse for Fritz Lang and was a Nazi supporter, despite being married to Lang, who was Jewish (and who was a strange case in that he also had fans in both Hitler and Goebbels. In My Lunches with Orson, Welles claims Lang told him that he was brought to a meeting with Goebbels who wanted Lang to head the UFA, that they "offered to make him an honorary Aryan, of which there were only a handful. Lang said, 'But I'm Jewish,' and Goebbels replied, 'I decide who is Jewish!'" Lang promptly left Germany and von Harbou, who claimed she was trying to work the system from the inside to save people.)
Let's not even get into Robert Blake, Leni Riefenstahl, Vince Neil, Phil Spector or Chris Langham.
I guess that by the fact that I've continued to read Card despite disliking him, and continued to watch Polanski films with unease, my answer is that the art is more important. I can do more with the art in my life than I can with hate in my heart for someone I've never met.
Polanski's career is not one made up of empathetic works like Card's. In a perverse way, even though his crime was infinitely greater, it makes it easier to reconcile Polanski's films with his life. He is a dark man, who makes dark films, who does dark things. His talent is as undeniable as his criminality. In Speaker for the Dead, Card spent over 400 pages on understanding everyone on the settlement of Lusitania, whether they were man or woman, beast or insect, religious or not. I don't know how a brain like that can possibly work in that manner.
At this point Card is not history's greatest monster, he is just a dinosaur roaring loudly before he becomes extinct (he's admitted as much, at least, even if he hasn't changed his stance). Polanski is just exhausting, even for Samantha Gailey.
Ender's Game will surely be a commercial success and Polanski's Venus in Fur will surely be received expectantly when it opens here.