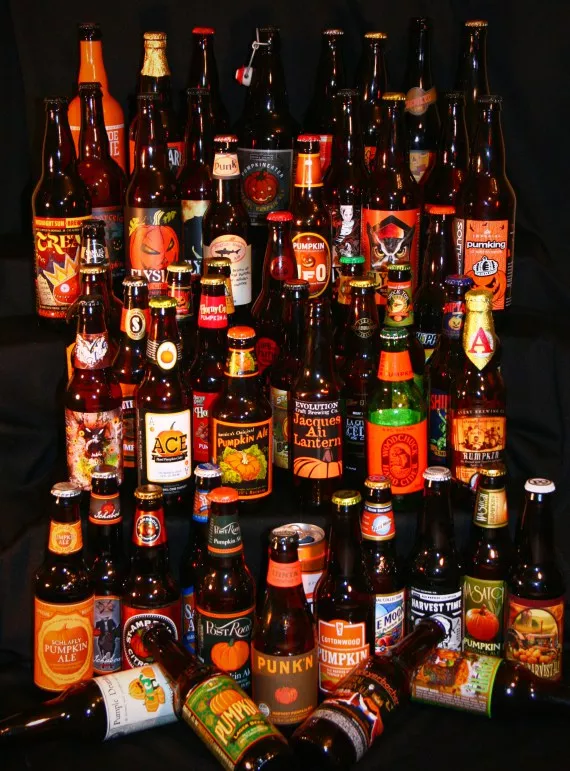 Let's be honest: When compared to other parts of the country,
our "fall season"
here in Orlando might be considered a "cooler summer" anywhere else, a time in late September/early October where the pea coats and UGG boots come out of the closet at the first sign of mid-70s temps. But that doesn't stop us from partaking in all of our annual fall traditions and treats, such as Starbucks' Pumpkin Spice Latte and, for the alcohol-inclined,
pumpkin beer
.
Nowadays it seems like most breweries around the country release a seasonal gourd-inspired brew each fall. Lucky for us, we have the crew over at the Great Pumpkin Beer Review to help us hollow out all the pumpkin guts and carve out a list of the best brews.
The Great Pumpkin Beer Review, a three-man (and one girl) operation of Orlando-based, self-proclaimed "beer geeks," spits out bi-weekly blog reviews about newly released (and sometimes hard-to-find) pumpkin beers. The reviews are based on a bevy of factors: packaging, color, aroma, mouth feel, tasting notes, finish and flavor balance. Each reviewer gives a numeral score for each characteristic (from 1 to 10, with 10 being highest), along with descriptive comments for each. The average of the collective scores makes up the overall score for the beer.
"The idea is to make it more of a conversational review across multiple tastes," says Michael DeLancett of TGPBR. "I might love something stout, someone else might hate a barrel aged beer. So the highest scores tend to be crowd pleasers and the individual scores are more for identifying with the taste of a certain reviewer."
The group kicked off the 2013 fall pumpkin beer season last week by posting their 2012 season-ending rankings – ­All Jacked Up by Cask & Larder's Ron Raike took top honors. Their first review of the season, Anderson Valley Brewing Company's Fall Hornin' Pumpkin Ale, went up last week, boasting an impressive 7.08 overall score. Not bad for the first round, being as DeLancett explains that "a very high rating can be an 8."
Last week, TGPBR also posted a special "Brewer Spotlight" Q&A with Anderson Valley's head brewer Fal Allen, in which he explains what "Bahl Hornin'" means, shares his favorite current brewing trends and offers advice to home brewers out there.
To stay updated with the latest beer releases and reviews, visit the Great Pumpkin Beer Review. You can also follow the group on Facebook and Twitter.