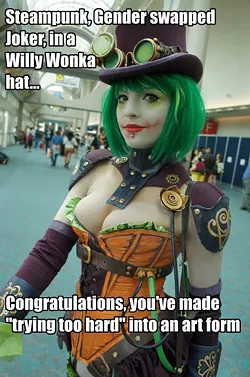 Um, no.
I don't understand the zeal some folks have for surrounding themselves with people who are exactly like them. Sure, it's nice if your friends share your basic values. But utter demographic homogeneity? That sounds like a surefire ticket to terminal boredom – especially if you're a straight white guy who seeks the exclusive company of other straight white guys. One morning, you wake up and realize that you've memorized the entire program schedule for the Spike network. And then you have to eat a bullet in the garage.
For example, I've been attending comic-book and science-fiction conventions for four decades. Not once have I thought "What we really, really need to do is make sure that even fewer women want to come to these things." So I was shocked and stunned to learn that girl-shaming is a thing among certain geek guys – guys who have made up their tiny minds that any woman who shows an interest in their genre pursuits must be nothing more than a pretty poser, and is thus to be shunned.
The current flashpoint for this idiocy is apparently cosplay, the ongoing mass dress-up campaign in which fanboys and –girls act out their heroic fantasies in public. At a recent convention, somebody snapped a pic of the cosplayer you see above; when the pic hit the Internet, some sneering troglodyte appended the text "Steampunk, Gender swapped Joker, in a Willy Wonka hat
Congratulations, you've made 'trying too hard' into an art form." Whereupon a deluge of rightfully indignant Tumblr commenters pointed out that the woman in the photo was actually portraying Duella Dent, a DC comics character who happens to be a
steampunk, gender-swapped Joker in a Willy Wonka hat. Oopsie.
It's great to see one of these feebs hoist on his own pop-cultural petard. But is accuracy really the issue? What if Duella Dent never existed? What if the cosplayer in question had actually assembled her look from out of whole cloth (pardon the pun)? Anybody who could come up with the concept of a steampunk, gender-swapped Joker in a Willy Wonka hat sounds like somebody I'd like to know. No, fidelity vs. creativity isn't the issue here: It's the lengths some guys will go to discourage women, because the prospect of actually having to interrelate with the opposite sex petrifies them down to their Ghost Rider Underoos.
Pick of the litter: Meghan as vintage Selina.
Pick of the litter: Meghan as vintage Selina.
My friend Meghan is the most active and diligent cosplayer I know. She portrays characters I've never even heard of. And she's seen this kind of "douchebaggery" (her choice of words) up close. Close enough, in fact, to know all the subcategories.
"Women who aren't a size 6 or below get their own kind of prejudice," she relates. "People make hateful comments about curvy girls in costume." (For perspective: This is a hobby whose public image is still defined by semi-employed 300-pound guys testing the tensile strength of their utility belts.)
"I was also labeled a man in a Photobucket account that posted pictures of me from an event," she says. "The person was complimenting me and my costume extensively
then added, 'It was only later people explained to me it was a man.' Sigh."
Thanks to Meghan, I now know that cosplay bigotry has a yet another lovely little substrain: racism. She helped me find this blog post  by Chaka Cumberbatch, a black cosplayer whose stories of censure by her white counterparts pretty much fit the definition of harrowing. I want you to read the piece, so I'll just tantalize you with some of the highlights: "A face like a gorilla." That wonderful N-Word. Charges that Cumberbatch is "ruining" characters by re-envisioning them as African-American. And from the more tolerant, compliments that she is instead doing a good job -- "for a black cosplayer."
Thank you, Mr. Gingrich. Your agonizer, please.
My views on the subject of race-switching in popular media are not unknown: My very first post for this blog was about the short-sightedness of fixing characters forever as one color. But what's the world coming to when even some eager impersonator at an overcrowded hotel has to worry about taking seven shades of shit for "denying" a character's "real" race – or gender, or weight class, or whatever?
Your Dragonizer, please: Mooring's Evil Uhura hits Dragoncon.
Your Dragonizer, please: Mooring's Evil Uhura hits Dragoncon.
I got some valuable feedback on this from local actress Trenell Mooring, who is just back from her second stint doing cosplay at Atlanta's DragonCon. While Mooring hasn't yet dressed as a character who is traditionally represented as white – the paucity of black characters in media, she admits, helps her Eartha Kitt Catwoman and Evil Uhura to "stand out" from the crowd -- she's open to doing so in the future. And if and when she does, she'll have a deeper personal history to refer to.
"Here's the thing," she reveals. "When you are an 'other'  there is a pretty good chance you have been told many many times that you CAN'T do *insert whatever*.    Here's an example.  When I was in high school, the homecoming theme was , I don't know, 'Romance under the sea'  or 'Waves  of Love.'  Anywhoo , I was one of the mermaids on our class float.  To which someone said, 'Who has ever heard of a black mermaid?'   Now, here is a mythical creature.  Half woman, half friggin fish.  That reality was A-ok.  But the whole black thing......hold the phone."
Or just slam it down in frustration. That concept of "other" is a frustrating one to see working its way into geekdom. Forty years after I started going to cons, comics/sci-fi/horror may be a bit more mainstream, but we fans still like to kid ourselves that we're at the vanguard of open-mindedness. That delusion is shattered when we ape the dominant attitudes toward nonwhites and women.
Those attitudes don't always denote overt ill will; they're rooted instead in unconscious, arbitrary yet highly toxic inequivalencies. Thus, the opposite of black is not white; the opposite of black is normal. The opposite of female is not male; the opposite of female is normal. The opposite of fat is not thin; the opposite of fat is normal. And so on, and so on.
If you're a fellow geek, take a good look around the next time you visit a con. And ask yourself what you see. That's us: We're the opposite of normal. Maybe we could start acting like it.
---
Days without a response from the publication that plagiarized from me and won't come clean: 82.
Follow me on Twitter: @Schneider_Stv