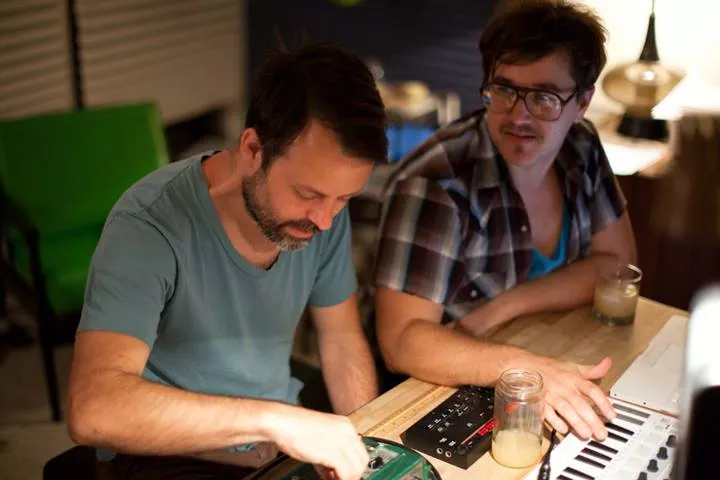 When composer Alan Singley returned to Orlando, his primary mission was to help his mother whose restaurant was sort of notoriously struggling. His plan was to stay as long as it took, and he expected it to take a while. Over the years, he'd been forming an idea for an avant garde symphony with local musician Henry Maiis, also known by his stage moniker Attached Hands. They decided this would be the perfect time to pursue it.
The restaurant closed, a relief for Singley, who wanted to see his mother free from the stress of it and out of the neighborhood where it was located. But by that point, he and Maiis were well into composing what would become the Anamorphic Orchestra, Singley's third symphony and Maiis' first. Singley wanted to see it through, so over the past five weeks, he and Maiis worked to finish the sheet music, disperse it to professional musicians (or as Singley calls them, "super pros"), assemble the orchestra to rehearse and then, of course, perform the pieces in full, exclusively for an Orlando audience.
That performance happens next week on Wednesday, Oct. 2 at 8 p.m. at the Venue, featuring Heather Felsted, flute; Tammy Reep, flute; Elizabeth Felsted, clarinet; Shelley Wishart, clarinet; Christine Sallas, oboe; Mike Bustillos, trumpet; Noemy Olson, viola; Eddie Cooper, cello; Arleigh Willis, Fun Machine Organ; Tyson Bodiford, drums; Alan Singley, arranger/Rhodes Piano and Henry Maiis, synths/sampler. After that, you can only experience the orchestra on iTunes.
There will also be a strong visual component playing off of the orchestra's visually intriguing name, provided by Richard Jerousek and strategically projected behind the orchestra. "There's going to be a very strong anamorphic component," Singley said in our interview for the feature that will be in next week's issue. "That's actually why I chose an image word such as anamorphic. ... It's a purposely distorted image, like our sound, it's purposely skewed." You can hear a midi demo of the orchestra now:
Check out the feature next week and mark your calendars, because this special performance won't be repeated, as Singley returns to the Pacific Northwest where more exciting opportunities await this Orlando ex-pat. More info on that next week!