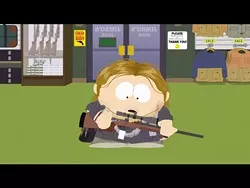 "Wouldn't ya rather have me than Ted Yoho?"
There needs to be more bigotry on TV.
I don't mean the ordinary, bald-faced race-baiting that goes unchallenged 24/7 on the news channels. I mean comedic representations of prejudice that show just how absurd it really is. At the same time, I know why we don't get more of that kind of material: because it's hard to make hateful attitudes entertaining without backhandedly endorsing them.
Look at All in the Family. What started as an exposé of ugly blue-collar anger became an experience that all but the staunchest, most carefully self-monitoring liberal was likely to find cathartic on some level. As a typically astute MAD Magazine parody of the program, pointed out, Americans loved "Starchie Bunkerhill" because he gave voice to resentments they could laugh at while secretly sharing.
Hence the pitfalls of South Park's George Zimmerman episode, "World War Zimmerman," which aired last night. There were good reasons to wonder why the show would wade into the Zimmy controversy – "Why now?" perhaps chief among them, given how remarkably timely the show has often managed to be. A related question is just how much insight co-creators Trey Parker and Matt Stone thought they could bring to a story that's been picked over innumerable times and in countless forums over the past two years. What was left to say about the murder of Trayvon Martin that held even the potential of making the country look at the case in a new and challenging way?
The answer: Not very much.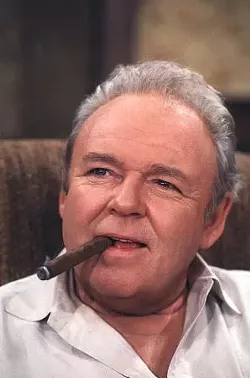 Did NOT die so we could have lukewarm TV.
"Wouldn't ya rather have me than Ted Yoho?"
The episode started strongly enough, with a paranoid Cartman certain that black America was about to rise up in violent retribution against the "not guilty" verdict. Shades of the jury pool itself, which had been certain "race riots" had erupted in Sanford before the trial even began, when no such thing had or ever would take place. Locating that racist fear in the person of Cartman was a natural move, given how firmly established the character is as the embodiment of noxious social attitudes. (In the early days of the series, a real-life elementary school performed a dramatization of the Rosa Parks story in which the student playing the bus driver was allowed to portray him as Cartman; when his community exploded in outrage, the student told the media he had taken it as a given that anything one hears out of Cartman's mouth represents the exact opposite of the way a decent person should think and feel.)
But after that promising beginning, the show stumbled badly. A running equation of Cartman's riot fantasy with the zombie epidemic of World War Z was labored and quickly wore out its welcome: Parker and Stone seemed married to a mashup that couldn't sustain more than a minute's worth of "clever" parallels. ("Zimmerman" begins with Z, kids!) After a while, the joke wasn't Cartman's idiocy in seeing a powderkeg of unrest in an African-American population that had actually sucked up the verdict and gone on with its life; the "entertainment" was in watching that population reduced again and again to just such a marauding mob, to be dispatched for our amusement. Talk about having your cake and gunning it down too.
Did NOT die so we could have lukewarm TV.
In that context, it was telling that the show's black character, Token, was both a pivotal player in the story and had almost nothing to do. It was his seething enmity Cartman was most sure of, yet the response Token was allowed was mostly limited to listening to Cartman's raging prejudice in semi-silent disgust and/or incredulity. There was one wonderful moment in which Token dared ask why he should have to apologize for Cartman's (read: white America's) feelings of discomfort after the trial – but that moment was over quickly and soon, meaning that anything of actual substance Token might have to say on the subject was sacrificed to further zombie capering and satire that was highly (pardon the pun) scattershot.
We got all the standard pop-analytical tropes: the justice system goes easier on whites; Stand Your Ground is dangerous folly; Florida is stupid. All were dispensed with rapidly and without much enthusiasm, as though Parker and Stone didn't know what to make of them – or worse, didn't really agree with them deep down.
Eventually, Cartman decided that Zimmerman was actually the "Patient Zero" he was after (of what epidemic? The analogy was by that point completely lost), and the entire undertaking collapsed in a heap of noncommittal, off-topic cavorting. Seeing Zimmy portrayed as a devoted husband and dad who had retired from "the game" of hunting Negroes might have made for a fleeting sendup of genre conventions, but it missed so many concrete opportunities that it practically qualified as rehabilitation. Who on Earth has done more in the past few months to give South Park material than the fast-driving, two-timing, iPad-slashing monster of Lake Mary? For maybe the first time, I feared that Parker and Stone not only didn't understand current events, but were paying less attention to them than most of their audience.
To be blunt, their hearts weren't in it. They didn't have a comment to make on the Zimmerman situation, but they wanted to be recognized for commenting on it. And that's a dangerous combination. Feeling that there's a problem out there you need to confront, but not understanding that problem beyond your own desire to be praised for solving it
well, who does that sound like? A certain guy who decided that he wasn't going to let any more of these assholes get away.  Next time, maybe Parker and Stone should just stay in their car. Or, to put it in the words of that other celebrated TV bigot: Stifle, you dingbats.
---
Days without a response from the publication that plagiarized from me and won't come clean: 115.
Follow me on Twitter: @Schneider_Stv