Lazy Moon Pizza, Hawkers Asian Street Fare
and 
Pom Pom's Teahouse and Sandwicheria
took places in Urbanspoon's
recently released list
of their users' favorite places to nosh for not a lot of dosh. Congrats, guys! If you're not already a regular customer at those three spots, read our reviews of the Urbanspoon fan favorites here:
Lazy Moon Pizza: (the gist: "Mammoth pies and slices, vast beer selection, gourmet soups and salads, in a casual, upbeat atmosphere")

Hawkers Asian Street Fare: (the gist: "The sheer variety and low price point of the assorted dishes makes this hub of pan-Asian small plates a popular draw, but it's better for snacking and drinking beer with a group than sitting down to a trad meal")

Pom Pom's Teahouse and Sandwicheria: (the gist: "Interesting sandwiches (yellow curry chicken salad with toasted almonds, red apple and onion), unusual tea (raspberry-rose), killer desserts (lavender-peppercorn creme brulee), and a cheery atmosphere. Open 24 hours Friday and Saturday")
And hey, no quibbles with those restaurants — they're all fine places to score tasty and (relatively) inexpensive grub. But we'd like to flesh out that list, because there are a lot more places in Orlando for great, inexpensive meals! Click through to the next page to find seven more cheap-eats champs, so we can have a proper Top 10.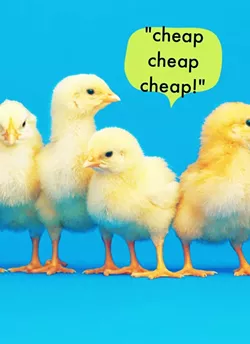 Here are seven more spots for delicious and cheap bites in Orlando – at each of these places, you can leave stuffed full for less than 10 bucks. Click restaurant name for address and phone number.
Junior Colombian Burger: (the gist: "Weighty, messy, exotic burgers draw a diverse patronage to this cramped Kirkman Road joint: hand-formed patties piled high with lettuce, tomato, white cheese, onion, and a mix of potato chips, pineapple sauce, pink sauce and  delectable secret garlic sauce – they rule.")

Border Grill: (the gist: "A treature trove of tacos – pibil, chorizo, and grilled chicken are our faves – tortas, gorditas, burritos, and caldos awaits. Consider starting with fresh-made guac and ending with homemade flan, no matter how stuffed you feel.")

Tako Cheena: (the gist: "An eclectic offering of Latin-Asian tacos and burritos sets this taqueria apart from the rest. Empanadas are a must to start, burritos are substantial, and sauces – especially habanero-jackfruit and sweet chili with smoked ghost pepper – are tantalizing.")

Eden's Fresh Co.: (the gist: "A garden of leafy delights awaits salad lovers tired of Sweet Tomatoes. Create your own salad or wrap from 37 'tossings' and 12 dressings.")

Italian Beefstro: (the gist: "Peppery, aromatic, thinly sliced roast beef piled thick on a steamed hoagie roll, topped with soft green bell peppers and doused with roasting juices ... The place isn't much to look at, but the menu packs more wins than Soldier Field.")

Beth's Burger Bar: (the gist: "Eschews the trend for designer burgers with a thousand toppings in favor of a straight-up, old-school approach with old-school pricing: a mere $3.49 will get you a single patty.")

Sapporo Ramen: (the gist: "Pleasantly salty broth is light and clear, given added body with the addition of butter, corn, bok choy and fish cake ... add slices of marinated pork belly, bamboo shoots, Japanese kimchi or egg for $1 more.")
What are your favorite spots for cheap eats?