Ralph Lauren teamed up with ASPCA to make video
Ralph Lauren released a new digital video called
"The Dog Walk"
featuring two things we love: beautiful, vibrantly colored leather goods and adorable shelter dogs. Ralph Lauren teamed up with the ASPCA to make the video, which showcases items from the company's fall 2013 accessories line, including handbags, shoes, leather dog carriers and leashes. In honor of
Adopt a Shelter Dog month
(October), Ralph Lauren will donate 10 percent of the proceeds from sales of the pieces that appear in the video to the ASPCA through Nov. 15. But the best part really is the adorableness of the dogs in the video, which include this dog, which looks like a gremlin:
These dachshund puppies, who fit perfectly into this handbag: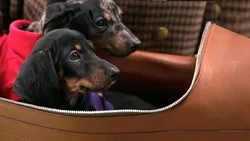 This cowprint pit bull, who looks dashing in his plaid scarf:
Next page: Dogs in raincoats! Dogs in baskets! Plus, watch 'The Dog Walk' video!
Look at how happy this dog is to be wearing this yellow Ralph Lauren raincoat behind the scenes of the video shoot:
This dog wants you to know that he's not an accessory – he just plays one in this video:
This dog knows you know he's not just an accessory – because he's the star of this scene: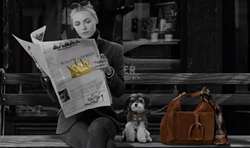 And this dog actually steals the scene. That orange leash is perfect on him:
According to Ralph Lauren, all of the dogs featured in the video were adopted and are adjusting well in their new homes. Including this little pit bull mix named Lady, who was 9 years old when the "Dog Walk" video was filmed.
You can watch "The Dog Walk," which was shot using green screen, below: