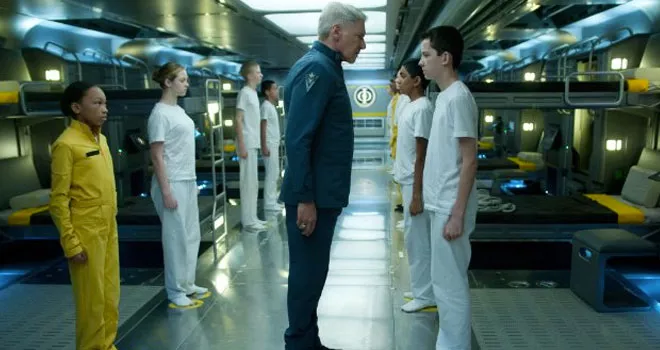 So the Ender's Game opening weekend came and went with little fanfare or trouble from the Orson Scott Card boycott. It also came and went with little money for the prospective franchise opener, bringing in less than $30m in North America.
The boycott had been proposed on social media earlier this summer as fans became aware of the Mormon author's staunch and vocal opposition to gay marriage.
Boycotts never seem to work at anything but calling more attention to the thing you wish people would ignore. But with Ender's Game, it was always going to be a hard sell even before Card's words got them into trouble.
It's a boycott I have plenty of sympathy for because Card's anti-gay stance is repellent and harmful, but it's not one I followed through on. I plunked my $14 down, but I did it for writer-director Gavin Hood and for Asa Butterfield and Harrison Ford and Hailee Steinfeld (and, by the way, for the bit-part actor who had the fortune to be named Han Soto in a Harrison Ford movie).
(After writing this post, I finally saw this piece on The Wrap that claims Card only earned the $1.5m option fee with no box office backend, meaning the boycott was pointless -- but no one said anything until the day before it opened for some incredibly dumb reason.)
A while back in Vision Thing, Steve made this point:
...the commercial success or failure of Ender's Game will still be a verdict on the viability of [Orson Scott Card's] name as a brand. If the film tanks, Hollywood will learn the lesson that anti-gay rhetoric has passed into the realm of box-office poison. If the picture does OK-to-strong business, the moral will be that the general public really doesn't mind a little beating up on the sissies – meaning that Card (and other content providers who share his noxious ideology) will continue to be considered for future paydays.
So now that we have part of the verdict -- the film was not John Carter-level box-office poison but was not strong either -- we may be even farther away from an answer than we were before we began. This is an unknowable middle: was this a repudiation of Orson Scott Card, or was it just lousy word of mouth for a big budget film with little-to-no direct action set pieces? How many casual movie goers even know Card's name, let alone his stance? (And the more awful question: how many people still agree with him?)
I did have another thought walking out of the theater, passing the IMAX screen. Maybe the poor result wasn't Card or Ender based at all. Perhaps it was based on sci-fi fatigue from Gravity, which has sort of taken off to be become the must-see movie of the month. It's had several weeks in a row of high publicity, winning the box office a few weekends on the bounce, having well known astrophysicists call it out on its accuracy, while movie critics gushed over its intensity and amateur proctologists gushed over Sandra Bullock's 3D buns of steel. Even in its 5th weekend, it still made $13m. Ender might not even make it to that mark in its second weekend.
The Gravity cycle had come to a close with the inevitable backlash against the movie and calmed down, but for a lot of people, sci-fi is a sometimes snack instead of an everyday snack, and with Ender's Game being released so close to Halloween, maybe the mass (swarm, if you will -- sorry) of moviegoers had moved on to other things in their head? It's time to be scared, or at least grossed out. Netflix has you covered there, and you can watch peacefully in your underwear if you want. How can little kids and a bullying narrative beat that?
Just to strip away all of the baggage for a moment, I'd have to say that it's a shame for the film itself, which turned out better than I had expected it. I had been worried about Gavin Hood after Wolverine, but little nitpicks here and there, I didn't have much of a problem with his style or his artistic license. The film version would never have worked with very young children as Battle School cadets as the book has it, and Valentine and Peter's story is only useful if they choose the Shadow of the Hegemon as the sequel path. Unless the film cleans up in China and Japan, there probably won't be a sequel.
It was always a theory that the film could never have been made until recently because the state of visual effects would have not allowed the battle room or the buggers and their swarms to be done right. And that's probably right. But the bigger reason is probably that it's just simply a very good book, like Fahrenheit 451 is just a very good book.
The way it sets up, its interest in games and strategy instead of tense set pieces, not to mention Ender's attempts to reconcile his deep empathy and his bottomless anger, is what makes it so readable, but to compare it to other big-budget sci-fi films (Star Wars, Alien, the Avengers, etc), the action just doesn't add up. That matters to a lot of people.
At the very least, the film does not clue us into anything Card has spoken against, not even tacitly. There is no love subplot, gay or straight, and there is no real political stance taken on anything. It's a very immediate film (beat the buggers at all costs), not an especially reflective one. There is no time for sexual tension in the framework, only what war will bring to these children and how it will leave them in the end.
Though the way Ender and Bean experiment with shooting each other in the bellies with their stunning pistols is kind of suggestive, Orson Scott Card, you cheeky bugger you.
http://www.youtube.com/watch?v=2UNWLgY-wuo