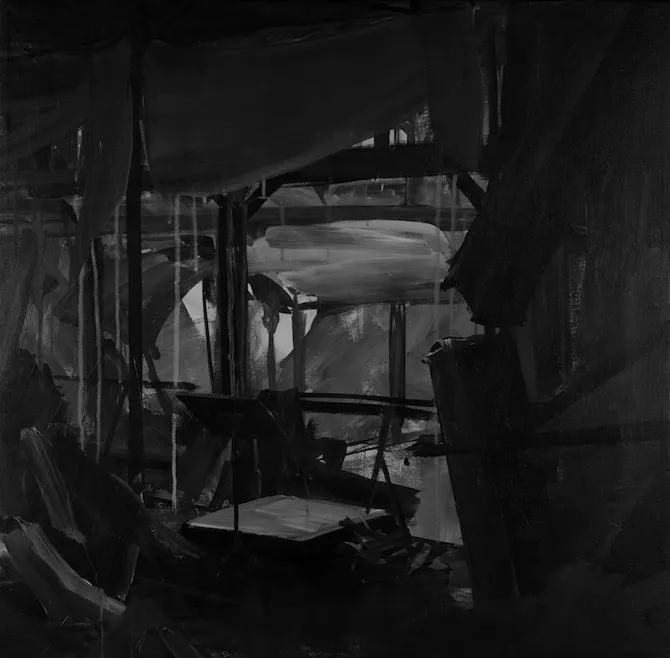 'Kristallnacht,' painting by Rick Jones (2013)
'Kristallnacht,' painting by Rick Jones (2013)
As we were planning our coverage of the
Bach Festival Society
's upcoming performance of
"A Child of Our Time,"
a secular oratorio composed by Sir Michael Tippett in response to
Kristallnacht
, we remembered that local painter
Rick Jones
is also a fan of modern classical music. (For those who can stay awake for its Wednesday 1-3 a.m. time slot, his show on
WPRK
,
Prematurely Air Conditioned Supermarket
, is a great resource for lovers of modern classical, or a primer for the classical-curious.) We asked him to create a painting that was, in its turn,
a response to Tippett's response,
and he agreed immediately. Below is Jones' statement about the painting. (You can read Christopher Belt's story about the oratorio
here
.)
Kristallnacht (German for 'night of broken glass') was a pogrom and ratcheting-up of anti-Jewish sentiment in Germany, sparked by 

the assassination in Paris of a Nazi official by a 17-yr-old Jewish boy. In one night, November 9th, 1938, Jewish-owned shops, other businesses and synagogues were smashed-in, looted, burned and vandalized.

A primary driver of deeper ideas in visual art for me has always been modern music, and the work of Sir Michael Tippett and his contemporaries has always been good "painting music." For the last year or so I've been painting and drawing "piles" of things, lumber, slabs, debris, plastic sheets, structures either under construction or being demolished. The invitation to represent a point in history at which subjects and objects collided in this way was irresistible and highly motivating.

I have always been an abstract painter, although in practice, both resemblance and abstraction are constantly creating a feedback loop of input and output of gestural traces. I typically paint or sketch something intuitively that may resemble something in the real world, which will then inform some elaboration or continuation of that idea, but still more or less within my abstract vocabulary. Conversely, an experience of a real-world form will form the basis of, or act as a template for, an abstract idea upon which I can improvise. Even though "real-life" objects and illusionistic spaces have lately crept into my paintings and drawings, they are treated as faceless abstraction, free from a fixed size and scale and, hopefully, able to infuse the picture with a meaning higher than its mundane representations.
artist bio:
Rick Jones is a sixth-generation native of Florida and a graduate of Florida State University (BFA Studio Art, 2001). He currently lives and works in Orlando and has also lived in Salt Lake City and Atlanta.