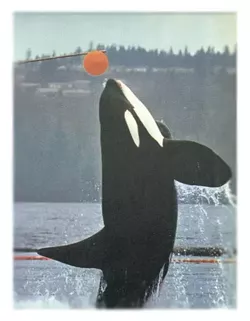 Recently, CNN aired the controversial movie
Blackfish,
a documentary that takes aim at SeaWorld and other marine parks that choose to keep orcas in captivity. The film contends that there is no humane way to keep these massive marine mammals in tanks for public amusement and observation, and it suggests that the incidences of some of the whales' aggression toward their trainers could be a result of the frustration and misery the whales endure in their sterile, unnatural environments. It also says that the animals' health is compromised by being kept in captivity. SeaWorld counters that it provides the best in veterinary care for its animals and that it and other marine parks provide a vital conservation and educational role via their marine mammal programs. SeaWorld also points out that, although in the early days of keeping orcas in captivity wild whales were removed from natural environments for public display, the industry now uses captive breeding programs to populate its pools. The park calls the film a piece of
propaganda
rather than a work of journalism. Despite SeaWorld's claims, though, there's no doubt that the history of keeping orcas captive is not a pretty one. Here's a sampling of the stories of captive orcas in the marine-park industry, beginning with the first killer whale ever captured by humans in 1961, and ending with the last whale "rescued" by her captors in 2010.
1961: Wanda
via
The first orca ever kept in captivity was a lone female discovered in 1961 in Newport Harbor, Calif. She was
captured in a net
and transported to Marineland of the Pacific, where she quickly began ramming hear head into the sides of her tank. She was nicknamed the Newport Whale, but she was also called Wanda. Three days after her capture,
she died.
1964: Moby Doll
Via
In 1964, the Vancouver Aquarium commissioned a sculptor names Samuel Burich to create a life-sized model of a killer whale for display. But in order to create the sculpture, Burich would first need a model. He went out on an expedition to harpoon a subject and managed to capture a one-ton whale off the coast of British Columbia. The whale didn't die, so the aquarium's director decided to
tow it back to Vancouver using the harpoon line.
The whale, which was said to be surprisingly docile, was named Moby Doll, and he lived for three months before
dying of a skin disease
caused by the salinity in the water he was kept in.
1965: Namu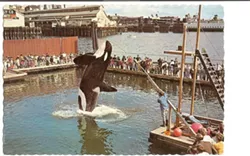 Via
In July 1965, a male orca was caught in a net in Namu Bay, British Columbia. He was purchased for $8,000 by Ted Griffin, who ran a private aquarium called the Seattle Marine Aquarium. Griffin had the whale towed to Seattle in a net and named him Namu. He trained the whale to swim with humans, and Namu became the first orca to survive life in captivity long enough to perform, and he helped change public perception of the animals, believed to be vicious killers. His performances helped people see orcas as intelligent and interesting animals, and proved to owners of aquariums that crowds would come in droves to see a captive killer whale.
Via
Namu died in 1966, just a year after his capture. May years later, the daughter of Griffin's business partner was
quoted in a Seattle paper
as saying that Griffin was haunted by his legacy of keeping a captive killer whale: "I remember going to Ted Griffin's home on the island," she wrote. "Years later he would become a shell of the man he had been ... regretting the capture and death of Namu ... I believe it haunts him to this day, as it does myself."
NEXT PAGE: The original Shamu
1965: Shamu
Via
Shamu was the first live orca intentionally caught to be kept in captivity. She was caught in 1965 to become a companion for Namu, but that plan didn't last long – instead, she was sold to SeaWorld later that year, where she performed for audiences. Shamu was retired from performing after she grabbed a girl's leg and didn't want to let go. SeaWorld kept calling whales in its show Shamu when they were performing, and most people probably had no idea they weren't watching the original Shamu the whale. The original Shamu
died in 1971.
SeaWorld trademarked the name Shamu and
has continued to use it for its whale shows.
1969: Corky
Via
Corky was part of a pod of whales in British Columbia Canada that was caught several times so that young whales could be harvested for sale to amusement parks and aquariums. Corky was captured in 1969, and she lived at Marineland Park in California, where she gave birth to her first captive-born calf in 1977. The calf died after just a couple of weeks. She gave birth to six more calves, all of which died shortly after birth. The oldest lived to 47 days. In 1987, Marineland was sold to SeaWorld, and Corky was moved to San Diego,
where she still resides.
1970: Lolita
In 1970, a pod of killer whales were herded into Penn Cove in the Puget Sound just off the coast of Washington state. They whales were frightened with boats and M-80s and seven of them were captured by Griffin and his partner to sell to marine parks around the world.
During this roundup,
some of the whales drowned, and their bodies were slit open and filled with rocks so they would sink to the bottom of the cove. Lolita was one of the surviving captured whales. She was estimated to be about four years old, and she was sent to the 
Miami Seaquarium,
where she was put on display in the "whale bowl" tank. She was paired with another orca named Hugo, and as the whales bonded, they became more
aggressive toward their trainers.
In 1980, Hugo died. Lolita has been living alone at the Miami Seaquarium ever since, and today is one of the oldest orcas in captivity – kept in one of the
oldest and smallest orca tanks in the country.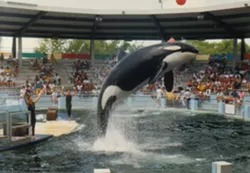 Via
1979: Keiko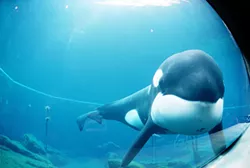 Via
The whale that eventually became famous for appearing in the 1992 movie
Free Willy
was originally
captured by a fishing boat in 1979
and kept in an Icelandic aquarium, before being purchased by Marineland in Canada, then sold to an amusement park in Mexico City. After his appearance in
Free Willy
, public demand led to an effort to prepare Keiko for release back into the wild. In 2002, after years of living in a sea pen and being conditioned for release, Keiko was finally allowed to come and go as he pleased from his ocean pen. In 2003, he died of pneumonia.
NEXT PAGE: Tilikum is captured, and a whale that lived its entire captivity in a warehouse
1983: Tilikum
Via
Tilikum was captured in 1983 off the coast of Iceland. In 1984, he was sold to Sealand of the Pacific, a marine park in Victoria, British Columbia, and in 1992, he was moved to SeaWorld in Orlando. Tilikum has been involved in
three deaths
since he has been taken into captivity, including that of trainer Dawn Brancheau. He has also
sired many of the orcas
that have been bred in captivity in recent years.
1984: Junior
Via
Junior was caught off the coast of Iceland in 1984. He was flown to Marineland in Canada in 1986, but he reportedly had a hard time settling in. He was put up for sale and
kept in a small tank
in a warehouse, with no
sunlight, companionship or exposure to the outdoors 
while Marineland waited for a buyer. None came. Junior lived in the warehouse, quietly, until his death in 1994.
Via
1985: Kalina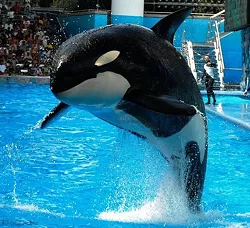 Via
Kalina was born at SeaWorld Orlando in 1985. She was the first captive-born orca to survive more than a few days, and she was first presented to the world as Baby Shamu in 1987. Over the years, she was moved from SeaWorld in Orlando to Ohio, San Diego, San Antonio, then back to Orlando, where
she died in 2010 from septicemia.
1988: Orkid
Via
Orkid was the
first orca born in captivity at SeaWorld San Diego.
She was born in 1988. She witnessed the traumatic death of her mother, a whale named Kandu V, who died during a live show when she tried to ram another whale but broke her jaw and fatally severed arteries. Orkid has been involved in a handful of incidents with trainers, including one in 2006 in which she grabbed a trainer's foot and dragged him to the bottom of the pool before releasing him.
1992: Kshamenk
Via
In 1992, Kshamenk was captured off the coast of Argentina by Mundo Marino, the largest aquarium in South America, as part of an alleged rescue of three whales that were said to have been stranded. Later, it was revealed that Mundo Marino may have intentionally forced the whales to strand. Two of the whales died – one died upon release, another died by beating himself against the walls of his tank. Kshamenk now
lives in a small tank in Mundo Marino
, and he has been used by SeaWorld San Diego to father one of the baby whales born earlier this year.
NEXT PAGE: A whale caught in 2010 is still being kept in captivity in the Netherlands
1993: Taku
Via>/a>
Taku was born at SeaWorld Orlando in 1993. He
died suddenly in 2007
of West Nile virus.
2002: Kohana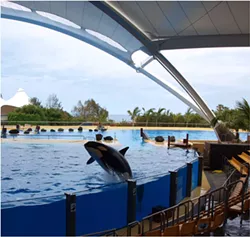 Via
Kohana was born at SeaWorld San Diego in 2002, but was later moved to Loro Parque in Spain. S
he is a daughter of Tilikum
and was conceived via artificial insemination. She has since given birth to two calves, a male in 2010, and a female in 2012. She rejected both of them. The female calf died suddenly at 10 months old from intestinal issues.
2010: Morgan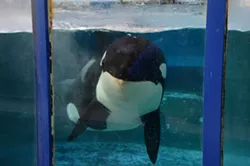 Via
Although marine facilities around the world no longer captures wild orcas simply for display, they do sometimes rescue wild animals in distress. Morgan was captured in 2010 by the Dolfinarium Hardewjik in the Netherlands, which says it rescued her because she was underweight. The aquarium was given permission to take her in on the condition that she be released back into the wild as soon as possible. But that didn't happen. Instead, Morgan was transferred to Loro Parque in Spain, where she resides today. A foundation called the
Free Morgan Foundation
was formed to fight for her release. The process is still working its way through the courts.