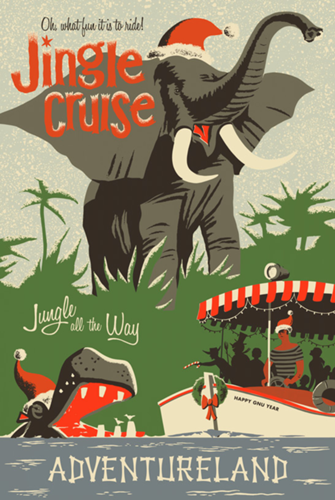 Disney announced at the end of October that for the 2013 holiday season, the Jungle Cruise attraction at both Disneyland and Walt Disney World would be transformed into the Jingle Cruise. The storyline, according to the Disney Parks blog, is that the Jungle Cruise skippers are homesick for the holidays, so they wrote home to ask for family and friends to mail them some holiday decor, which they use to spruce up their boats.
"The Skippers have also added a slew of new jokes to their tours that are the perfect way to get guests in the holiday spirit," the blog notes. "Additionally, Jungle Cruise boats have been renamed with the holidays in mind, and if guests listen carefully, they may hear a holiday-themed radio broadcast playing in the background."
This week, Disney has also released the first pics of preparations being made at the parks to get the Jungle Cruise ships ready for their holiday debut. Click the link below to check them out.