Well, Steve already beat me to talking about Blockbuster Video going out of business, but I have feelings on the subject. Blockbuster was my first post-high school what-the-hell-do-I-do-now job. I was there for a little over two years, which is maybe a little too long, but I had worked my way up to assistant manager and had no other prospects at the time.
It's where I went from a guy who liked movies to a guy who took movies seriously, and as DVD started to take hold when PS2 was released, I had a huge hand in building my store's DVD collection (which was about two shelves worth of titles when I started and a few hundred strong by the time I left).
I met some people I'm still friends with today and we had hijinks together while working, but it was a seriously awful company in just about every facet. Cheap, crooked, idiotic; none of the higher ups had a clue. None of the big bosses even watched movies.
Still, as far as jobs I hated go, it was a pretty important one for me, and I'm glad I had it.
News, links, etc:
http://www.youtube.com/watch?v=gSEzGDzZ1dY
-Here is the behind the scenes story of how last week's faux Wes Anderson horror trailer for SNL came together. (Alex Buono)
-The new clip with Shia Labeouf for Nymphomaniac is full of double entendres and very NSW. (Moviefone)
-I love this piece about that gives a real in-depth look at Last Action Hero, which I loved when I was a kid. I don't care that so many other people hated it. I was just old enough for it to be fun and just old enough to get a lot of the action movie references and not old enough to care about any of the inside baseball shit that came along with it, though I certainly understand why anyone who wasn't 12 years old at the time would not like it. (AV Club)
http://www.youtube.com/watch?v=tBTTd0gfkn0
-Here are all 30 minutes of that Star Wars Return of the Jedi laserdisc that was full of outtakes. (YT)
-In the highly unlikely scenario where you find yourself accidentally stoned this week, Mickey Mouse recommends these munchies dude. (Jerry Beck)
-I'm one of the few people that isn't really invested in the Marvel movie stuff (I've been burned too many times), but this new deal with Netflix could be interesting, especially if it leads to an Alias/Jessica Jones show. That was such a great comic. (Playlist)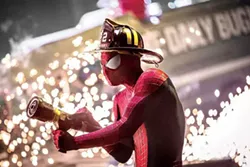 -About being burned too many times, I will just leave this tear-inducing Amazing Spider-man 2 promo shot right here.
-You can keep your Marilyns and Garbos. I'll take Myrna Loy in drag above them any day of the week. (@RealAliciaMayer)
-Since everyone is talking about, listen to Jennifer Lawrence explain her new pixie haircut. (Yahoo)
-The Oscar shortlist for animated short films was announced this week. Could Disney win back-to-back statues? (Cartoon Brew)
http://www.youtube.com/watch?v=DNe0ZUD19EE
-This is highly impressive. Give it a chance to develop. Or at least skip to 5:40 to see the Jurassic Park part.
-These full movie gifs are taking things a little too far but I can't stop watching. (Wired)
-I had no idea that Tom Stoppard wrote most of the dialogue in Indiana Jones and the Last Crusade. (Mental Floss)