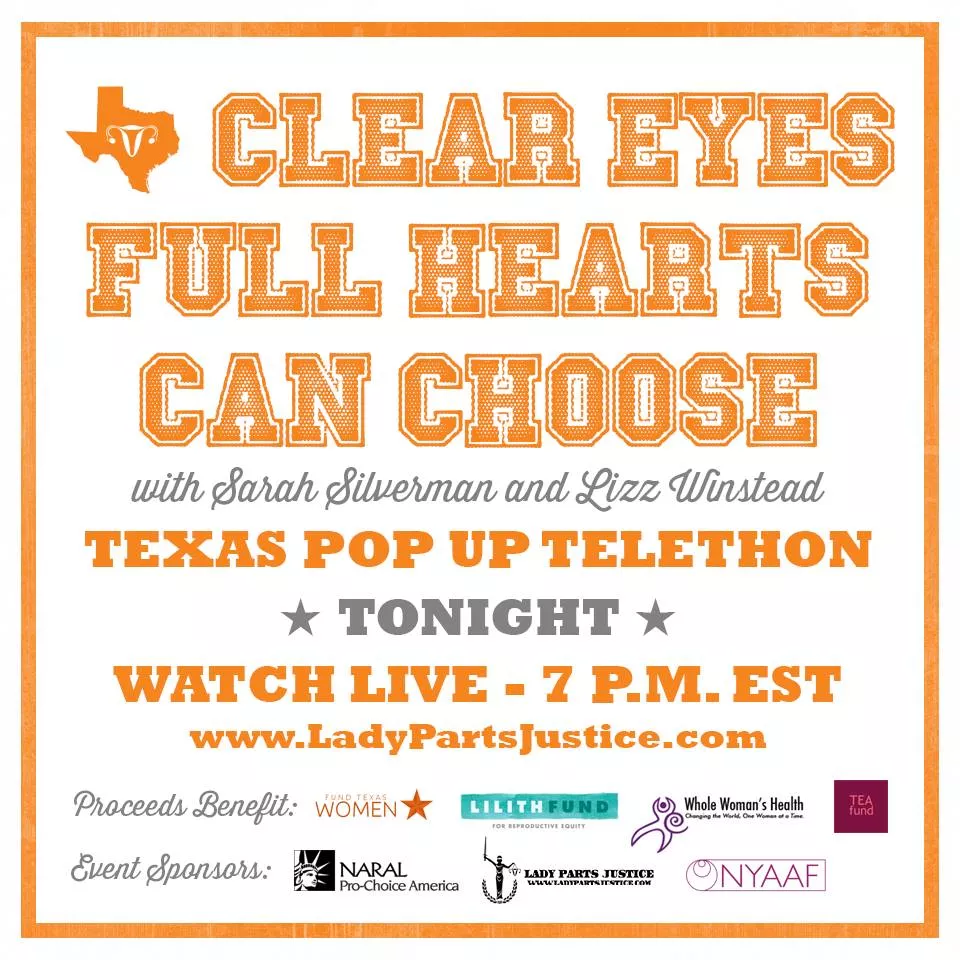 Surely you've been paying attention to the
post-Wendy Davis ladyparts drama that Republicans and the Texas courts have been kicking up lately
– that pending political tragedy that could see the state closing even more abortion and women's health clinics, even though abortion is legal. Rather than take the blatant offensiveness lying down, some well known ladies –
Daily Show Creator Lizz Winstead
and the
always hilarious Sarah Silverman
– who love their rights are gathering together tonight in New York City to host a unique telethon situation. AND YOU ARE INVITED! How did it come about? "You know me, always railing against the injustice of the ladies," says Winstead. And, when the Texas Fifth Circuit says, 'we're actually going to lift a stay on these laws,' it left a bunch of women in very, very vulnerable, horrifying situations. I was outraged that the women just needed to go have their procedures, and all the sudden the price quadrupled because you have find child care and a place to stay, and travel.
I thought this an outrage."
So Winstead called up her friend –
and forever Goonie – Martha Plimpton,
who is going to be doing something similar in Los Angeles soon. The rush to get this done tonight is based on the fact that outspoken partner in Winstead crime, Silverman,  only had one day available and it just so happened to be Nov. 18 in New York, Winstead says. People and organizations cottoned to the idea quickly, donating time, food and technology to make it all happen. "It's really like the Mickey Rooney-Judy Garland, I've got a barn and I've got curtains, let's put on a fundraiser so low-income women can have an abortion kind of thing," Winstead says. "People have been really awesome. We're having one big old phone – because, really, we're going to take most of the donations online – but we're going to have one big old phone that's manned by a celebrity. So you can call and talk to a celebrity if you can get through. Every half hour it will be Emily Mortimer or Natasha Lyonne of Jemimah Kirke. And then mystery surprise guests. And we have a surprise musical act." (A full list of performers and guests can be found in the press release below). Winstead says that the funds raised from tonight's sendup will be used to help the women who are in limbo in Texas awaiting a court ruling so that they can actually get the procedures they've already signed up for. Additional funds will be utilized in helping low-income Texas women have access to pregnancy terminations should they choose. Alternately, Winstead hopes the event will convince viewers to look into the arcane abortion limitations being floated in most states, while simultaneously inspiring and engaging women and the people who love and respect them. "It's just going to be a night the represents what women really are: We're righteous, and we're fun, and we're talented and we don't want to take any shit. And we're there for each other. So it's a night to remind women of that through humor and music and poetry and art," Winstead says, adding a characteristic jab at the legislators who repeatedly try to undermine women's health. "We want to make these decisions. We want to have full lives, and part of that full life is a sexual life, and involves the health care that surrounds that. It's really underestimating of women. Have these guys never had good sex? Have they never been with a woman who enjoys the sex? They must not have if they think this legislation is a good thing." Tune it to
www.ladypartsjustice.com
tonight at 7 p.m. Log into the event's
facebook page here.
Here's the full press release!
FOR IMMEDIATE RELEASE: 11/12/13 "Clear Eyes, Full Hearts, Can Choose" An Online Telethon Supporting Texas Women   COMEDIANS SARAH SILVERMAN AND LIZZ WINSTEAD JOIN FORCES WITH 3 REPRODUCTIVE RIGHTS GROUPS FOR AN ONLINE TELETHON TO RAISE EMERGENCY FUNDS FOR WOMEN IN TEXAS NEW YORK CITY: Sarah Silverman (Comedian, and Emmy award nominated actress) and Lizz Winstead (Comedian, author and Daily Show co-creator) have teamed up with the New York Abortion Access Fund, NARAL Pro-Choice America and Lady Parts Justice to host Clear Eyes, Full Hearts, Can Choose, a star studded online telethon, with proceeds going to fight back against the attacks on abortion access in Texas streaming live online from New York City November 18th, from 7-10pm ET at www.ladypartsjustice.org

Talent confirmations for Clear Eyes, Full Hearts, Can Choose will be coming in right up until show time for this mini marathon but as of this release, confirmed performers include Celebrities: Emily Mortimer, (The Newsroom) Natasha Lyonne, Alysia Reiner, Yael Stone, Dascha Polanco, (Orange Is The New Black) Jemima Kirke (HBO's Girls) Kathy Najimy, (Voice of Peggy Hill on King of the Hill, Sister Act) Zoe Kazan (The F-Word, Bored To Death) Sarah Sophie Flicker (performer/activist The Citizens Band) Alexa Chung (TV Host /writer/ model)

Musicians: Kathleen Hanna, (Bikini Kill, Le Tigre) King Ad Rock (The Beastie Boys) Tennessee Thomas (The Like) Ambrosia Parsley (Shivaree) Holly Miranda, plus a secret special OMG musical performance Then there is the funny. Comedians: Amy Schumer (Inside Amy Schumer) Our one-man house band Mr. Dave Hill (author "Tasteful Nudes"/ lead singer of Valley Lodge) John Fugelsang (MSNBC/Current TV/Sexy Liberal Tour) Phoebe Robinson (MTV'S Code Girl) Dean Obeidallah (The Muslim's Are Coming!) Poets: Lynne Procope (National Poetry Slam Champion) Syreeta McFadden (Poet/Writer: Feministing) Activists and journalists: Texas Sheroes Sarah Slamen (repro rights activist/Feminist Justice League) and Jessica Luther (writer and reproductive justice activist) Joan Walsh (MSNBC/Salon/ author, "What's The Matter With White People") Sally Kohn (feminist/journalist /activist, MSNBC, CNN, Fox) Anthea Butler (MSNBC, Associate Professor of Religious Studies at the University of Pennsylvania.) These are just some of the people in this cavalcade, (and yes we are using the word cavalcade) of the biggest names in comedy, music, entertainment and activism who stand with Texas women and against injustice. This live streaming event will bring three hours of entertainment and awareness across the World Wide We Stand with Women Web and will raise consciousness and cash for Texas women in need. When the mainstream media ignored Wendy Davis, America fired up their computers and watched her courage streaming live. With this amazing line up of talent for Clear Eyes, Full Hearts, Can Choose we expect America to once again fire up their computers, gather for watch parties, take to Twitter and Facebook and say we won't stand for this while pledging their support. "NARAL Pro-Choice America is proud to sponsor this online telethon to help Texas women and families. We stood proudly by state Senator Wendy Davis (D-TX) this summer when her heroic filibuster inspired action that spread far beyond the state's border. We're excited to stand by Texas women again and join this dynamic band of women entertainers, celebrities and friends Nov. 18 as they come together to raise awareness and raise money for the everyday heroes on the ground in Texas. This extraordinary event will help pro-choice organizers and activists provide counseling, funding and even transportation to women seeking abortion care. At a time when many Texas abortion clinics are facing imminent closure and women are facing cancelled appointments and seemingly nowhere to turn, we must lend a hand without delay. I salute the courage and conviction of these activists, and as a native Texan myself, I am especially touched by this effort to protect our sisters back at home." -Ilyse Hogue, president of NARAL Pro-Choice America "The New York Abortion Access Fund is honored to support the crucial work of the Lilith Fund, the Texas Equal Action Fund, Whole Woman's Health, and Fund Texas Women. NYAAF knows first hand that the right to choose an abortion is meaningless without access to abortion services. These organizations are working around the clock to make abortion access a reality for all Texans no matter their income or where they live, and in spite of horrific anti-abortion legislation. We are proud to stand with our fellow funds and do our part to raise much-needed resources for Texans." - Maureen Stutzman and Alison Turkos, Chairs of the New York Abortion Access Fund Board of Directors This is a rare chance to have a front row seat right in your living room and be a part of an incredible event that will be hilarious, entertaining and moving while inspiring everyone across the country to help women in Texas access the abortion care they need. It doesn't matter where you are, you can still make a difference! We're all pissed about what's happening across the country so join us online at www.ladypartsjustice.com or any website of one of the 4 organizations we are benefitting.  Twitter Hashtag #TexasWomenForever We will be raising money and raising hell for the women of Texas!

Event Details:

  Where to watch: www.ladypartsjustice.com http://wholewomanshealth.com/ www.lilithfund.com http://fundtexaswomen.org/ http://teafund.org/ Date: Monday November 18th, 2013 Time: 7-10pm ET WHERE TO DONATE www.ladypartsjustice.com 100 PERCENT OF THE NIGHTS PROCEEDS WILL BE DIVIDED EQUALLY BETWEEN THE FOLLOWING ORGANIZATIONS: The Lilith Fund for Reproductive Equity: www.lilithfund.org The Lilith Fund assists Texans in exercising their fundamental right to abortion by removing barriers to access and providing direct financial assistance and counseling to empower people seeking to terminate an unwanted pregnancy. Whole Woman's TX Action Fund: http://wholewomanshealth.com/ Whole Woman's Health is an independent feminist organization, with the philosophy that each woman must be at the center of her own healthcare decisions. The clinic has set up a fund to provide financial assistance to patients for travel expenses, childcare, food etc for women who have to travel for their abortions. Fund Texas Women: http://fundtexaswomen.org/ Fund Texas Women is a non-profit organization based in Austin, Texas that helps women access abortion by providing practical support as well as information. The Texas Equal Access Fund:  http://teafund.org/ The TEA Fund helps low-income and disadvantaged women in Texas who want an abortion and do not have enough money to pay for it. #TexasWomenForever @TXWomenForever   ABOUT THE EVENT

 

EXECUTIVE PRODUCERS

 

Revolution Messaging Leader in cutting edge content in a mobile world. www.revolutionmessaging.com

 

Arun Chaudhary (Filmmaker/Author "First Cameraman: Documenting The Obama Presidency In Real Time") Lizz Winstead (Comedian, producer, author "Lizz Free Or Die: Essays) Sarah Sophie Flicker (performer/activist The Citizens Band)  

 

THE EVENT SPONSORS

 

The New York Abortion Access Fund: nyaaf.org  NYAAF supports anyone who is unable to pay fully for an abortion and is living in or traveling to New York State by providing financial assistance and connections to other resources.   NARAL Pro-Choice America www.naral.org NARAL uses the political process to guarantee every woman the right to make personal decisions regarding the full range of reproductive choices, including preventing unintended pregnancy, bearing healthy children, and choosing legal abortion. Lady Parts Justice www.ladypartsjustice.com Using humor and facts to speak truth to power #TexasWomenForever @TXWomenForever

###