Some believe Costner "acted" alone.
In 1973, Delacorte Press published the science-fiction novel 
Joshua, Son of None
. In the book, which is set 10 years earlier, a doctor clones a murdered President of the United States. That president is never named, but as the clone grows to maturity, he's christened
Joshua Francis Kellogg
– lest anybody miss the implication.
The novel was easily locatable on my parents' bookshelf when I was growing up, but I never got around to reading it myself. So I can't comment on its actual artistic merits. In hindsight, though, I'm amazed it got published at all. For all we hear about the coarsening of our culture that's allegedly gone on since then, I can barely imagine an author walking into a publisher's office on the 10th anniversary of Sept. 11 and announcing he had written a book in which the victims of the World Trade Center collapse are found to be alive and well in a neighboring dimension. Even Gilbert Gottfried wouldn't go near a setup like that.
John Kennedy got grandfathered into the culture of the Too Soon. Witness the ongoing coverage of the 50th anniversary of his death, which has made clear that his exit from this mortal coil will forever be the subject of morbid speculation. Now, I'm not saying that's a bad thing on every level. I'm not saying I subscribe wholeheartedly to the conclusions of the Warren Commission: I've read persuasive arguments on both sides of the issue. But it's important to understand that the validity of JFK conspiracy theories is to some degree independent of our reasons for wanting to believe them.
I recently heard a roundtable of TV pundits discuss why much of America is so reluctant to accept the idea that Lee Harvey Oswald may have acted alone. Their thesis was that, for many people, it's too scary to admit that one loser with a cheap rifle could change the entire course of civilization. For the remainder of the segment, they focused on the "loser" aspect, examining the potential trauma in admitting that a nobody like Oswald could have accomplished what he did without the help of any government or criminal organization.
You, sir, are no Jack Ruby.
Some believe Costner "acted" alone.
What they missed is that the frightening word in that scenario isn't "loser"; it's "rifle." I'm convinced that one of the reasons we're willing to indulge almost any theory about the JFK assassination is that it excuses our ongoing failure to confront the scourge of guns in our society. Every grassy knoll we pore over and every Cuban connection we retrace obscures a reality we don't want to face:  that men like Kennedy die because we've inexplicably decided that a deadly weapon should be infinitely easier to obtain than cancer treatment. Who killed Kennedy isn't really the issue. Whether you accept the single-gunman theory or not, free and unfettered access to firearms means that the forward march of history can be scuttled by just about anybody. And that's a horrible realization – almost too horrible to contemplate.
So we fixate on where Oswald might have traveled and whom he might have met with, rather than the carbine he ordered through the mail. We concentrate on the letters John Hinckley sent to Jodie Foster, not the blue steel revolver he brought to the Washington Hilton. We obsess over the book Mark David Chapman was carrying that day at the Dakota, not the Charter Arms .38. Ready, aim, deflect.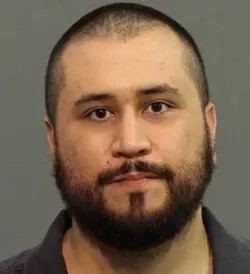 You, sir, are no Jack Ruby.
This week, Florida made a small but important deviation from that tradition. Finally and at long last, it took George Zimmerman's guns away. The move was rote and by the book to be sure, not the culmination of some progressive social shift. Nonetheless, it was profoundly cathartic for the multitudes who have wondered just what this subhuman berserker would have to do to be deprived of his "toys" (as family friend Frank Taaffe described Zimmerman's arsenal on Wednesday's Piers Morgan Live). For all the conservative arguments that absolutely anything can qualify as a weapon – from a knife to an automobile to a piece of sidewalk – Zimmerman was denied access to none of these. Instead, our system admitted at least tacitly that guns are the problem.
Who knows how long it will last. The cynical part of me suspects that Zimmerman's latest victim will be discredited in the court of public opinion, and in a few weeks, he'll be once again free to hit "update cart" on the Kel-Tec website. But for now, he has to live in the hell his paranoid imagination has inflicted upon the rest of us. In his every waking minute, he has to worry about the punks and persecutors he's sure are lying in wait for him around every corner, and to know that he has nothing with which to fend them off beyond his own doughy physiognomy and dull wits. It must be absolute torture for him, and the thought makes me smile.
Tonight, a murdered boy rests just a bit more soundly. And tonight, the coward who killed him sleeps with one eye open. Because for once, we all poked our heads up and saw the elephant gun in the room.
---
Days without a response from the publication that plagiarized from me and won't come clean: 157.
Follow me on Twitter: @Schneider_Stv