The best way to ease turkey-day kitchen stress is to get as much done before the actual day as possible, so we've gathered some of the best recipes from around the web for you. These six desserts – as well as being beautiful and delicious – can all be made a few days ahead and held in the fridge (if you can keep your hands off for that long). The full list:

Nutella cake

Pumpkin-pecan gingersnap ice cream

Pomegranate gelee

Pumpkin chiffon pie

Grapefruit-Campari custard pie

Salted caramel tart

Up first: A whole stick of butter, a whole jar of Nutella, and a tot of rum for good measure ... nobody ever called
Nigella Lawson
Spartan, and the
Nutella cake with chocolate-hazelnut ganache
pictured above is a good example of why. If you have a tight-fitting cake keeper, make this surprisingly simple recipe a day or two before the big day.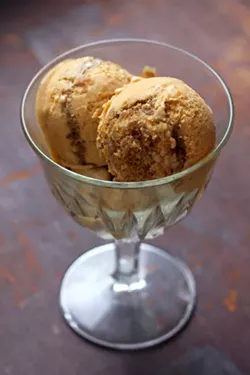 You don't have a choice on the whole make-ahead thing with ice cream ... it has to be done at least a day ahead of time. This pumpkin-pecan-gingersnap ice cream from Saveur hits all your favorite seasonal flavor notes; make it this weekend and stash it away in the freezer until Thursday.

Over on Food52, a recipe from the queen of California cuisine, Alice Waters, for pomegranate gelée: simple and seasonal, unexpected, and spectacularly pretty. (Just tell the kids it's Jell-O.)

The Splendid Table adapts a recipe from Canal House Cooks Every Day for pumpkin chiffon pie – a lighter, fluffier take on the sometimes-heavy traditional pumpkin pie, with an easy press-in crust made from crumbled gingersnaps.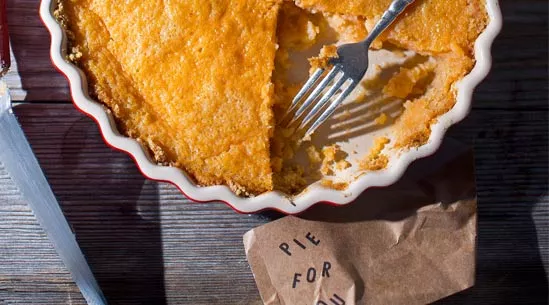 Tasting Table shares a recipe for another pie with an easy press-in crust (Saltines this time!) from the creative minds behind the Brooklyn pie shop Four and Twenty Blackbirds: grapefruit-Campari custard pie. It's one of those offbeat combos that totally works.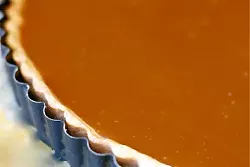 photo by Elissa Dunn/Painted Peach
Elissa Dunn's Painted Peach blog is a reliable source of well-curated recipes; this salted caramel tart is a stunner, and can be made and kept chilled for at least a day, then served at room temperature.