Pumpkin pot pie recipe via Earthy Feast (photo by Page Alisa)
Thanksgiving can be tough for those with any kind of restricted diet – and for their table- and kitchen-mates. Unless you choose to discuss it, it's no one else's business why you choose not to eat animals or whether you talked to your doctor about avoiding gluten. But setting aside the sometimes awkward discussions dietary choices can lead to at the Thanksgiving table, we thought we'd just offer a pair of sample menus –whether you're still looking for inspiration for your own entirely vegetarian Thanksgiving, or you just found out Uncle Dave is gluten-intolerant. Feel free to mix and match or just borrow one or two dishes from these vegetarian/vegan and gluten-free Thanksgiving game plans.
Click NEXT PAGE below for a rich, hearty vegetarian/vegan menu.
Andouille sausage and cornbread stuffing ... gluten-free! (recipe and photo via Food52)
Pumpkin pot pie recipe via Earthy Feast (photo by Page Alisa)
MENU 1: VEGETARIAN/VEGAN
yellow split-pea soup with smoked paprika and rye croutons
pumpkin pot pie (vegan: kabocha squash pot pie )
mashed potatoes with savory mushroom gravy
green beans with leeks and dill
roasted sweet potato and beet wedges with harissa-mayo dipping sauce (vegan: substitute Vegenaise for mayonnaise)
chai-spice pumpkin bars (vegan and gluten-free!)
MENU 2: GLUTEN-FREE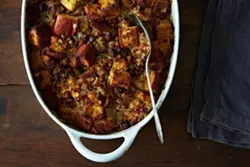 Andouille sausage and cornbread stuffing ... gluten-free! (recipe and photo via Food52)
gluten-free crackers and crudités with collard-pecan pesto and cheddar-horseradish spread
andouille sausage-cornbread stuffing
roasted brined turkey (don't buy pre-brined; some commercial brines may contain gluten)
mashed potatoes and gluten-free gravy
baked acorn squash crescents with brown sugar and butter
Brussels sprouts with bacon, garlic and shallots
flourless chocolate cake with whipped heavy cream
chai-spice pumpkin bars (vegan and gluten-free!)