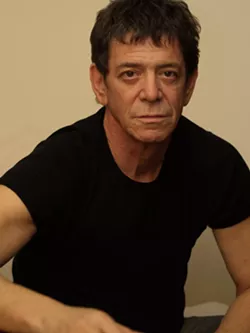 Reed also refused to play Plant City, just in case.
Reed also refused to play Plant City, just in case.
I never met Nelson Mandela, but I did meet Lou Reed. And that equivalency isn't as flimsy as it might seem. Back in the day, Mandela and Reed were briefly united in a righteous quest – one that put them in direct opposition to another now-dead icon, whose noxious social attitudes are rapidly and tragically disappearing down the memory hole.
In the summer of 1983, I was shopping with some friends in the guitar section of a music store in Manhattan. I glanced to the right of me, and there was Lou Reed, trying out one of the new Schecters.
"Are those the new Schechters?" I ventured clumsily – an opening gambit almost as feeble as Flounder's "You guys playin' cards?" in National Lampoon's Animal House.
To his credit, Lou didn't act perturbed over this violation of his shopping privacy (and by a trio of wide-eyed kids, no less). He gamely chatted about the guitars and how much he liked them.
"They're not for everybody, but I personally think they're sensational," he explained in his classic urban drawl. "If you like that 'old' sound."
I inquired into his songwriting process – if he wrote tunes on guitar, and if that was how he had worked on the numbers he had done recently with KISS. (Well, what else could a 17-year-old rivethead ask? That Metallica gig was FAR in Reed's future.) When our brief but delightful conversation was over, he shook our hands and told us it had been a pleasure.
From that day onward, I simply loved the man. He could have been a dick to us – he had had every right to be. Instead, he had behaved as if showing kindness to younger musicians was his responsibility. Or maybe just that well-placed encouragement was part of his job description as a human being. Either way, what glorious values to have.
Two years later, Lou lent his glorious values to "Sun City," the Band Aid-inspired all-star single that sought to publicize the boycott of apartheid-era South Africa that was then spreading throughout the music industry. Now in college, I watched enraptured as Lou appeared on my MTV, doing the white man's head bop and applying his charming two-note range to the line "Look around the world bay-bee, it cannot be denied" – "it" being the sad fact that America had once again placed itself on "the wrong side" by continuing to play ball with the nation that had imprisoned Mandela as part of its decades-long program of brutal racism.
Nelson Mandela remembers what you did in the 1980s.
Nelson Mandela remembers what you did in the 1980s.
Then again, it was the 1980s, Reagan was in the White House, and gettin' race wrong had always been old Dutch's stock in trade. Back when he was governor of California, he had declared that the blacks of this country should be happy with whatever scraps Uncle Sam tossed their way, because back home on the Dark Continent, they were "eating each other for lunch." His rise to a national political profile was based on large part on the myth of the welfare queen – the ghetto scam artist who relied on honest taxpayers' money to set her up with Cadillacs and malt liquor. And when Reagan kicked off his 1980 presidential run by extolling "states' rights" in a speech delivered mere miles from the site where three civil-rights workers had been murdered by the Klan 16 years earlier, it was hard to miss the implication. It was hard because you weren't supposed to.
We don't talk much about Reagan the racist these days, but it's a large part of who he was and the legacy he left. Last night, I listened to commentators on TV enumerate the repressive thug tactics South Africa's National Party had engaged in back when Mandela was still in jail. I was gobsmacked to realize that almost every one of them – from denying voting rights to nonwhites to empowering police to stop and frisk them for the proper I.D. – was an only slightly more blatant analogue to one of the various suppression tactics today's GOP is counting on to preserve its fortunes (all in the name of "rebranding"). This generation of Republicans venerates Reagan as a god, so why not worship at his altar of color-based division and divisiveness?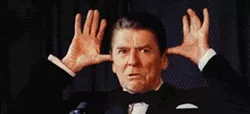 Google "Reagan black people," and this is what you get. Honestly.
Google "Reagan black people," and this is what you get. Honestly.
These days, you just have to hide it a little better. You send out a Michele Bachmann to muddy the waters with talk of the Founding Fathers having "worked tirelessly until slavery was no more." You hopscotch over history to equate the party of Lincoln with the party of Lee Atwater. You tweet that Rosa Parks ended racism in 1955, thus making anything Ronald Reagan did or said after that date automatically not racist. You live a lie, and you pray that the Nelson Mandelas who remember the truth will die quickly.
The truth isn't for everybody. It has that old sound. But I personally think it's sensational.
I don't know what I think about the afterlife these days. I don't know if I believe that Lou Reed is welcoming Mandela to heaven, or if their energies have merely been set free to take an eternal victory lap around the Majestic Infinite. But whichever is the case, I'd like to think that the Gipper has been waiting for them there, eager to tell them he was wrong, and that he gets it now.
---
Days without a response from the publication that plagiarized from me and won't come clean: 172.
Follow me on Twitter: @Schneider_Stv