Over the past few weeks, there has been some confusion among app loyalists who subscribe to BandsInTown, Songkick, [insert robot who auto-generates show notifications], etc. It seems both Songkick and BandsInTown falsely reported a
cover set of Yeah Yeah Yeahs songs
to be an actual Yeah Yeah Yeahs show in Orlando, which generated a fair amount of buzz considering the last time they played here was in 2006. (This is the risk you take when you trust a robot to put together your show calendar for you instead of checking
Orlando Weekly
's comprehensive calendar, I guess.)
I just wanted to clarify that the Yeah Yeah Yeahs are NOT coming to town to play a FREE show, so if you saw this poster: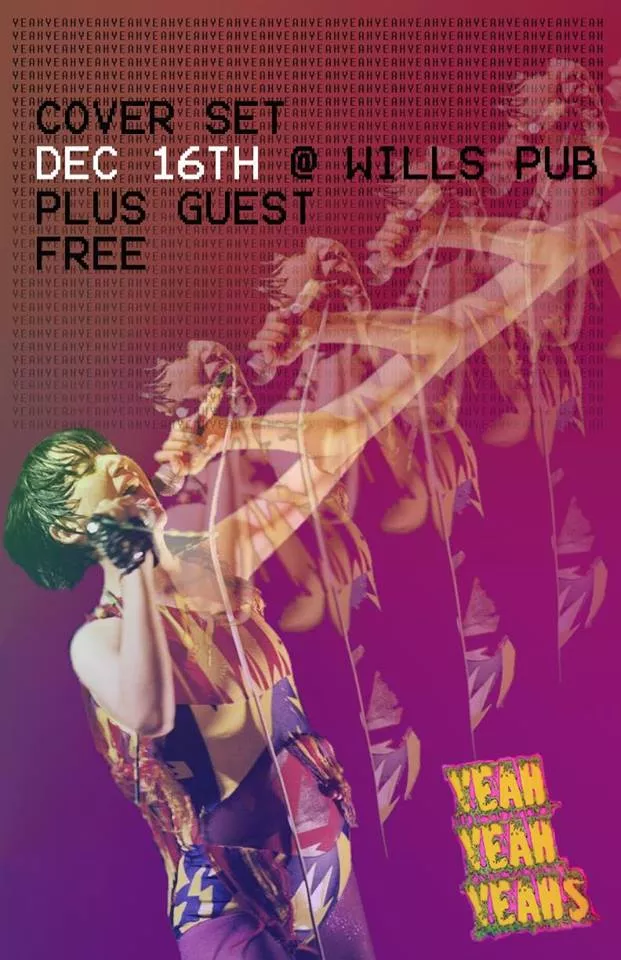 And your eyes went straight to the bottom, and didn't see the text at the very top where it says COVER SET, don't say I didn't try to warn you before you get to Will's Pub on Dec. 16 and have a different "oh" moment than seeing Karen O perform here for the first time in seven years.
In case the thought of a Yeah Yeah Yeahs cover set is enough to entice you out, there are also two other cover sets planned for Weezer and the Strokes in the same place on the same night, meaning you can indulge in a ton of imitation sets at no cost, plus it's low dough Monday, so it's a dollar off your beer. The real Yeah Yeah Yeahs don't come this cheap, plus I'm betting that's also not a real Gucci bag on your shoulder.
Watching the real band perform their own songs is overrated, anyway, right? In case you were wondering, here is a list of a bunch of other artists who aren't playing on Dec. 16 in Orlando:
Pizza Underground
Mikal Cronin
Beyonce
Bad Hair Day
Green Day
Joni Mitchell
Nobunny
Nirvana with Paul McCartney
via
MORAL OF THE STORY: Subscribe to these apps at your own risk.