I love to eat and drink, and I love Walt Disney World. For me, one of the best things about visiting the parks is experiencing the different cuisines offered, especially at Epcot's World Showcase. Restaurant Marrakesh in the Morocco pavilion is currently my favorite, but the
tequila cave in Mexico
is a close second. Yes, it counts. I'm from New Orleans, where booze takes the place of bread at the bottom of the food pyramid. I dare you to visit and not go to a drive-thru daiquiri shop, where they hand you alcohol through the window. But don't worry – it's in a Styrofoam cup (with a lid!), so it's totally legal.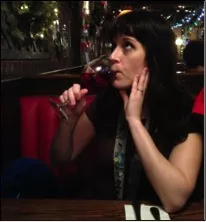 Sangria: My carb of choice. At Mama Melrose's, Disney's Hollywood Studios (J/K though – I also had pasta).
Anyway, back to Disney. My favorite snack at WDW is surprisingly pretty run of the mill: a Mickey ice-cream bar. So great on a hot day, which occurs roughly 11 months out of the year here. I'm a big fan of anything chocolate, especially dark chocolate. So when I mentioned to my friend Katlyn that I was writing a blog on would-be WDW food items, I was obviously offended, because here's what went down: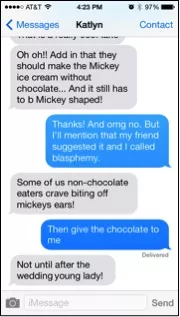 As if the chocolate shaming wasn't enough, notice how she deals an extra blow by reminding me that I'm getting married and trying to lose some weight beforehand. This is what I get for consulting others. Next she's going to suggest they take the froyo out of the incredible
Dole Whip
. I forgive her because she's on medication that doesn't allow her to have chocolate or anything with caffeine right now (and apparently may be addling her brain, as well), but still. There's a line, man.
I prefer my chocolate with chocolate. Excuse my humidity-addled hair. In December.
If it was up to me, I wouldn't change anything about the food/restaurants that are currently available at at WDW. But I would like to add a few things ... NEXT PAGE:
Mos Eisley Cantina (Star Wars)
Mos Eisley Cantina (Star Wars)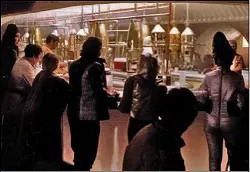 Image credit: Wookieepedia
Disney's Hollywood Studios already holds an annual
Star Wars Weekends
event every summer, and following Disney's
somewhat recent acquisition of Lucasfilm
, the park updated its Star Tours ride. A Star Wars-themed eatery/hangout just seems inevitable, and why not this well-loved bar that is literally the only place on Tatooine worth visiting? However, I'd be happiest if they didn't have
this song
playing 24/7 in the background. And if young Harrison Ford was there. And if they offered food (a girl has needs). NEXT PAGE:
Deadly Nightshade (The Nightmare Before Christmas)
Deadly Nightshade (The Nightmare Before Christmas)
Magic Kingdom tried to combat The Wizarding World of Harry Potter's butterbeer with something called
LeFou's Brew
, available at Gaston's Tavern in the New Fantasyland. However, it just hasn't generated the same excitement because the butterbeer is just, in my opinion, much more delicious and a lot less sweet (which is hard to fathom, considering it's full of sugar). Even I can't finish a whole cup of the Brew, and I have a perpetual love affair with sugar, as you should know by now. So what's a Disney drink dreamer-upper to do?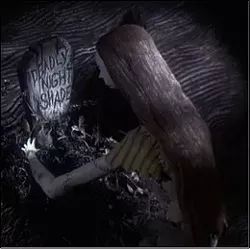 Image credit: blogs.disney.com
Deadly Nightshade is a plant Sally uses in 
The Nightmare Before Christmas
to poison Dr. Finkelstein so she can sneak out of his compound. A drink named after this would be super creative, and great to serve over the holidays – maybe rum-based, with hot or cold availability. And they could offer some non-alcohol Frog's Breath for the children, advertised as having real frog bits. Yum/gross. NEXT PAGE:
Alien Mochi (Toy Story)
Alien Mochi (Toy Story)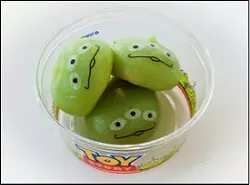 Image credit: disneytouristblog.com
OK, so technically this
already exists at Tokyo Disneyland
, but HELLO, how cute would those be to sell outside Toy Story Midway Mania!? That ride always has an hour-and-a-half wait, and the Fast Passes distribute ridiculously quickly. They'd make so much money – especially if they made a cold/ice-cream version. Kids would be all over it. I'd personally even hesitate for half a second before popping one of these bad boys in my mouth because of how adorable they are. NEXT PAGE:
Tiana's Beignets (The Princess and the Frog)
Tiana's Beignets (The Princess and the Frog)
You didn't think a sweets-obsessed New Orleans girl could get through a food article without mentioning
beignets
, do you?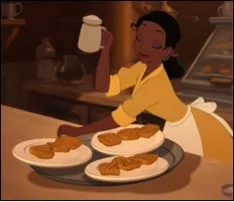 I don't know who drew those beignets, but I don't think they've been to New Orleans. Image credit: blogs.disney.com
These are currently offered at the Port Orleans resort, but as a local, I don't exactly feel like hauling my butt over to a resort to sample this sugary Heaven-sent item. Case in point: I haven't even tried them. No, I want my beignets close by, and I want them themed after Tiana's specialty. I think a cart in Liberty Square in Magic Kingdom would do the trick, but if WDW decided to erect an entire
Tiana's Palace
on resort grounds, I would take that instead and cry tears of joy between bites of jambalaya. P.S. If you haven't seen 
The Princess and the Frog
, please do so immediately. It is sorely underrated.
What food, drink, and/or restaurant would you guys like to see at Disney Parks?