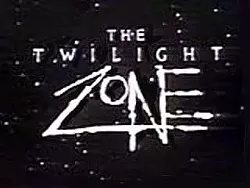 Your next stop: Crackerville.
Your next stop: Crackerville.
One of the great things about TV is that every story gets made sooner or later.
Case in point: In the mid-1980s, CBS launched the first of several reboots of The Twilight Zone. Author Harlan Ellison – whose relationship with the television medium had long been fractious – came along as a creative consultant. Ellison ended up quitting the show in midseason, over a teleplay he had written for its Christmas episode. In the script – adapted from a short story by Donald Westlake – a racist slumlord tells some of his youngest tenants that Santa Claus doesn't come to black households. According to Ellison, the network realized that this would make for a Very Special Episode – so special, in fact, that it could be awfully upsetting to some people.
So Standards and Practices "negotiated" a number of fixes they wanted to see made before the segment could air. One was to set the story at any other holiday than Christmas, which, as Ellison has pointed out, would
um, blunt its impact somewhat. He walked off the show instead, and the story was abandoned.
Almost three decades later, Ellison and Westlake's concept finally came to the small screen this week, in the form of a "news" report on FOX's The Kelly File. Host Megyn Kelly was responding to an essay by Slate's Aisha Harris, who had suggested that it might be time to re-envision Santa Claus in a way that would make him more accessible to nonwhite kids. Kelly paid some lip service to the "pain" Harris must be feeling, then shot down her idea like Ted Nugent gunning for reindeer meat:
For all you kids watching at home, Santa just is white. But this person is maybe just arguing that we should also have a black Santa. But, you know, Santa is what he is, and just so you know, we're just debating this because someone wrote about it, kids.
For good measure, she then brought Jesus into the equation, stating that the Son of Man, too, was "verifiably" white.
"But you know who was totally a brother? That Gollum."
"But you know who was totally a brother? That Gollum."
Pundits were quick to point out the historical ignorance of both assertions. The Daily Show's Jessica Williams went further, explaining that Kelly's beliefs are wholly in keeping with the tendency of white culture to appropriate the icons of other races, then quickly "lock down" those icons as white – always and forever.
And that's the point: To the Kellys of the world, everything good – from Santa to Jesus to America itself -- becomes white the minute we steal it. And then its prior history disappears. (I was nearly livid when I first saw Back to the Future and witnessed its gag about Michael J. Fox having given Chuck Berry his sound; finally, I thought, we've find a way to convince ourselves that the white man invented rock and roll.)
I'm sure Kelly wouldn't see herself as akin to the slumlord Edward Asner was going to portray in that abandoned Twilight Zone installment. After all, she hadn't suggested that Santa doesn't visit African-Americans – merely that he is not one of them. But in a way, that's even worse. It suggests that Jolly Old St. Nick's activities of Dec. 24 are merely a favor we whites do for blacks, whereas a stockingload of presents is something we're owed as members of Santa's own tribe. Throwing in Jesus was the icing on the (vanilla) cake – a reminder that the black man has to thank the white for the salvation of his immortal soul, not just the can of Simoniz he got last year.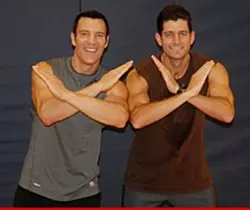 Paul Ryan, practicin' those mad outreach skillz.
Paul Ryan, practicin' those mad outreach skillz.
This is the mindset of the right wing, which placates itself with the fantasy of a nonwhite populace eternally indebted to the largesse of its white benefactors. Hence the willful warping of the term "entitlements," which as spat from the conservative mouth connotes the arrogance of "entitlement" as a personality trait, rather than representing vital lifelines to which their recipients are indeed entitled by dint of being human. And make no mistake, that resentment is based in the widespread (and often erroneous) assumption that the beneficiaries of such lifelines are mostly darker-skinned.
This week, a bunch of those lifelines got cut. Oh, Social Security and Medicare were "preserved" – at least for now – but unemployment assistance to more than a million seriously needy Americans was terminated, just in time for the holidays. And it couldn't have happened, I firmly believe, without the underlying perception that the lion's share of the affected would be lazy Negroes. Our elected representatives looked into their hearts, and what they decided was that Santa could just skip the ghetto this Christmas. They'll be looking for him in the Hamptons, hangin' with his old homeboy Jesus.
---
Days without a response from the publication that plagiarized from me and won't come clean: 179.
Follow me on Twitter: @Schneider_Stv