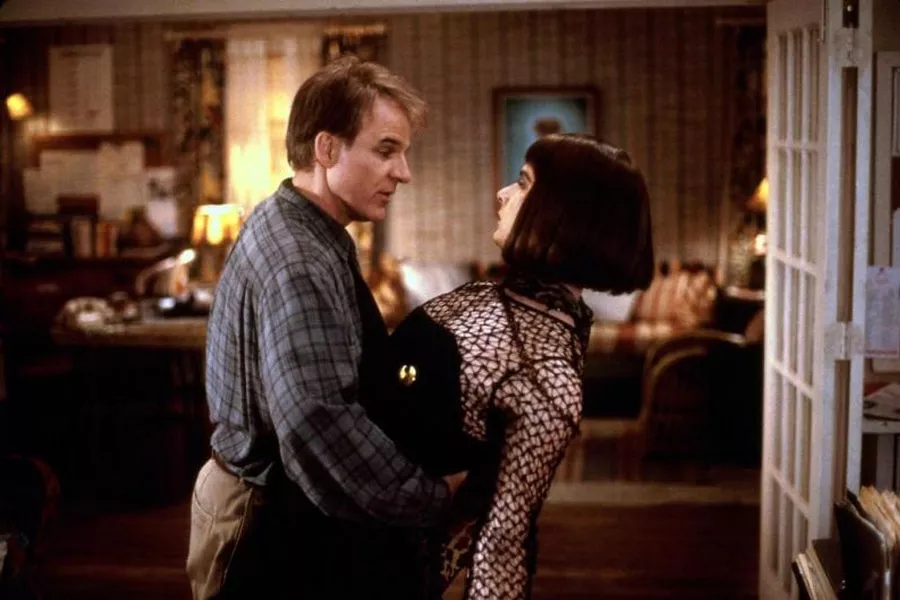 As we edge ever closer Christmas and New Years and to the promise of completely failing on our newly needed diets, we discover that it is apparently both Christmas Craaaazy and Rita Wilson week here at OW Labs.
Wilson is given a somewhat more meaty role in Mixed Nuts than she was in yesterday's film, Jingle All the Way. Here she plays Catherine, the mousy love interest to Steve Martin's socially inept Philip. The pair work together at a suicide hotline in this Norah and Delia Ephron-penned take on the 90s LA Christmas experience and burgeoning middle-age love. The film is so hardcore 90s that it features Jon Stewart and Parker Posey as a pair of rollerblading yuppies whose run-ins with Philip set the plot in motion at several points. It's not as classic a yuppie duo as Julia Louis Dreyfus and Nicholas Guest as the yuppies in Christmas Vacation, but it works for what it is.
Philip, of course, has no idea that Catherine is in love with him. He is in love with another woman who doesn't really seem to like him all that much despite the fact that they're engaged.  On top of that, he's been lying about their ensuing eviction which will force the closure of the hotline and put Catherine out of a job.
Plot-wise, the film is a dead fish that just sits there on the screen staring back at you with lifeless eyes. The film's comedy set pieces and gags -- like Madeleine Kahn's impromptu rap song in a broken elevator, and Schreiber (his first time in drag!) and Martin dancing through the apartment -- are another story though, and that's only to be expected when you fill out your cast with Steve Martin, Madeline Kahn, Adam Sandler, Liev Schreiber, Gary Shandling and Robert Klein. The film doesn't have the consistent rat-tat-tat pace to it like earlier Martin comedies, but there are more than a few gems to comb the beach for.
Mixed Nuts is a curious Christmas film in the sense that it only vaguely qualifies as a Christmas film. It's more of an ode to the comic farces of the 30s with some nods to screwball comedies thrown in, but aside from using a Christmas tree as a prop to transport a dead body, this story could take place at any time of the year. Part of that stems from the fact that LA just doesn't feel like Christmas. Coming from the Northeast, Orlando feels the same way at Christmas. It's the palm trees and not being able to see your breath. Ephron highlights that, setting palm trees in spotlights behind Christmas trees and having snowmen rollerblade through Venice Beach. It's disorienting set against the traditional It's a Wonderful Life/White Christmas ideal that the movies give us, but that's the reality for half of the country anyway.
Available for digital download.
https://www.youtube.com/watch?v=dwBG2CXDXcc