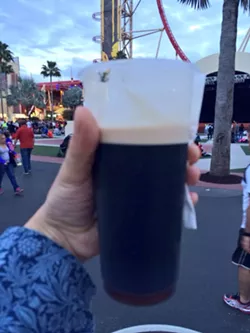 The price of alcohol has been quietly increased in time for New Year's.
If you pick up the current issue of Orlando Weekly, you'll find my guide to getting the most drink for your dollar from Orlando's theme parks. Sadly, since I filed that story, some of my favorite watering holes at the attractions went and raised their alcohol rates under the radar. Beginning on December 19th, 2013, all bars at Universal Orlando quietly increased alcohol prices by posting prices before tax, as opposed to tax-inclusive as they were formerly listed.
There's no official word from Universal on the change, but a resort bartender anonymously informed me that the policy was related to a taxation rule that we may see roll out across Florida venues in the coming months.
According to this Florida Department of Regulation document bars may now choose to post drink prices exclusive of sales tax, or inform patrons that prices include tax. Universal has begun charging sales tax on top of prices that formerly included sales tax, effectively resulting in a 6.5% price increase in alcoholic drinks throught their parks.
In other words, the same happy hour Guinness draft at Finnegan's that used to cost $6.50 (tax included) is now $6.93 before tip. That 43 cents might not seem like a lot, but for some of us it will quickly add up...especially since no one should have to face holiday crowds like this sober: