Documentary examines the  life of former Bikini Kill singer Kathleen Hanna
The very ink with which history is written is fluid prejudice – Mark Twain
By 1990, punk as a cultural phenomenon had been dead for almost a decade; but no one told Kathleen Hanna, former lead singer of Bikini Kill and Le Tigre. In fact, no one ever told Kathleen Hanna anything. Kathleen Hanna tells you. Her sense of singular authority birthed a completely contained sub-culture and was the catalyst for a feminist movement paralleled only by women's right to vote and the push for the passing of the ERA. Or so the new documentary The Punk Singer would have you believe.
Director Sini Anderson's mash note to the defacto leader of the Riot Grrrl movement skirts nostalgia so painfully that if the viewer isn't aware ahead of time, one would get the impression that the person in question had died.  Using a handful of archival video footage and snapshots, Anderson introduces Hanna as a fully formed manifesto machine that inspired and impressed a generation; A Gen X revolution of thought and sound, slacker activism at its prime.  We are treated to a VIP list of women who attest earnestly to the validity of this assertion and a number of short interviews with Hanna that feel like a college reunion.  A self congratulatory look back at the heady and important activities of their youth reserved for the dinner parties and long weekends of people of a certain age.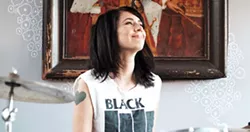 Hanna is a compelling subject, rife with complexities and prone to sloganeering. Her interviews and the inclusion of her battle with late-stage Lymes disease expose a realness and a vulnerability that balances the praise heaped upon her. However it's filtered through a tone of someone pining for her former glory. The Punk Singer is a good starting point at attempting to codify the larger history of the underground movements of the early '90s, a time affluent with stories and deep in cultural shifts, and there is a great documentary in that subject matter. But this one misses that opportunity and instead becomes this generation's crowd-sourced version of The Big Chill. Enjoyable, wistful but inconclusive.
The Punk Singer opens at the Enzian tonight at 9:30 p.m.