Hey guess what, guys, it's RUULLLL cold out there. So you know what? Put that silly New Year's diet aside for just a few hours and make yourself some spiked cocoa because um
well, just because.
Let's start with a spicy Mexican hot chocolate with Kahlúa, from Kara Newman via Imbibe magazine: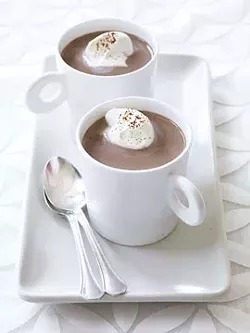 Photo by Antonis Achilleos
Photo by Antonis Achilleos
Mexican Hot Chocolate
8 oz. milk
1 1/2 oz. bittersweet chocolate, grated
1/2 oz. Mexican spice mix (below)
1 1/2 oz. coffee-flavored liqueur (Newman recommends Kahlúa)
Tools: saucepan, whisk
Glass: mug
Garnish: whipped cream and a sprinkly of chili powder
Simmer the milk in a saucepan over medium heat for about one minute, or until heated through. Do not allow to boil. Whisk in the grated chocolate and spice mix and continue to simmer until melted. Remove from heat and stir in the coffee liqueur. Pour into a mug and garnish. TIP: Any type of milk or milk substitute and chocolate works in this spice drink, but for an extra rich and creamy cup, we suggest using whole milk and a bittersweet chocolate that is at least 70 percent cacao.
Mexican Spice Mix
1 tsp. chili powder
1 tsp. ground cinnamon
1/2 tsp. ground cardamom
1/2 tsp. ground ginger
1/2 tsp. ground cloves
1/2 tsp. ground nutmeg
Mix all ingredients together ahead of time and cover tightly. Adjust the spices to your tastes.
Photo by J. Kenji Lopez-Alt
El Dorado Hot Chocolate
Recipe courtesy of FoodNetwork.com, via Refinery29
Ingredients:
¾ cup sugar
¼ cup water, plus 2 tbsp
8 oz finely chopped semisweet or milk chocolate
6 cups milk
6 oz cinnamon-flavored liqueur (recommended: Goldschlager), see Cook's note
3 oz golden rum
Stir the sugar and two tablespoons of the water together in a heavy-bottomed saucepan. Cover and bring to a boil over medium heat. Uncover and continue to cook, swirling the pan but not stirring, until the sugar is a dark golden caramel, seven to 10 minutes. (It should smell slightly burnt.) Pull pan from the heat, and carefully pour the quarter cup water into the caramel. Take care; it may spatter a lot. Whisk until smooth, and allow to cool. (The burnt caramel can be held for up to two weeks at room temperature.)
When ready to serve: Put three tablespoons of the burnt caramel into four mugs or cups, and top evenly with the chopped chocolate. Bring the milk to a simmer in a medium pan over medium heat. Pull pan from the heat, and add the Goldschlager and rum; pour over the chocolate. Serve El Dorado Hot Chocolates with a spoon to stir the layers together.
Note: Goldschlager is a cinnamon-flavored liqueur with small flecks of edible gold.
Snow-day cocktail recipe from the 10-Minute Happy Hour on TheKitchn.com:
Spiked Chocolate Truffle Hot Cocoa
10 ounces prepared hot cocoa
4 ounces chocolate truffle liqueur
Fresh whipped cream, for garnish
Chocolate shavings, for garnish
Divide the hot cocoa between two 8-ounce mugs. Add 2 ounces of chocolate truffle liqueur to each mug and stir to combine. Top with freshly whipped cream and chocolate shavings and enjoy.
Note: I used Chocolate Truffle Liqueur from Crave for this recipe but you may use any chocolate liqueur for your spiked cocoa.
This recipe for raspberry hot chocolate comes from Morgan at Host the Toast:
Boozy Raspberry Hot Chocolate
Ingredients
10 ounces milk chocolate chips
1½ cup whole milk
½ cup heavy cream
¼ cup unsweetened cocoa powder
Chambord, to taste, plus another ? cup for reducing
Whipped cream and raspberries, to top
Directions
Add everything but the Chambord, whipped cream, and raspberries to a small saucepan over medium-low heat. Stir occasionally until the chocolate completely melts.
After the chocolate melts, continue to cook, but stir more frequently. The mixture should thicken a bit and all of the chunks should dissolve. After 5-10 minutes, remove the mixture from the heat and let it cool for a few minutes.
As it cools, add ? cup of Chambord to another small saucepan. Bring to a boil and reduce to a simmer. Cook for a few minutes, until the Chambord has thickened enough to coat the back of a spoon. Don't over cook, or it will become hard like candy, rather than syrupy, which is what we want.
Pour the hot chocolate into little mugs (servings should be small because it is so rich), add Chambord to your liking, and top with whipped cream. Drizzle with the Chambord reduction and top with a few raspberries. Serve.
Then there's this orange-flavored cocoa bomb from J. Kenji López-Alt at Serious Eats:
Photo by J. Kenji Lopez-Alt
Orange Pisco Hot Chocolate
Ingredients
1/4 cup cocoa powder
1 tablespoon granulated sugar
pinch kosher salt
3 cups whole milk
4 ounces milk chocolate chips
4 ounces bittersweet chocolate chips
3 ounces Grand Marnier or Cointreau
4 ounces pisco or rum
4 (2-inch) segments orange zest
Whipped cream and candied orange peel garnish
Procedures
In medium saucepan, stir cocoa with sugar and salt. Stir in milk, milk chocolate, and bittersweet chocolate. Heat over medium heat until, stirring constantly, until chocolate is melted and mixture is hot. Gently whisk to completely homogenize mixture.
Add Grand Marnier and pisco or rum. Divide into four serving cups. Rub rim of each cup with orange zest. Top with whipped cream, candied orange peel, and orange zest. Serve immediately.
L.V. Anderson, in a You're Doing It Wrong column on Slate, offers up how to do it right (click through for her full instructions):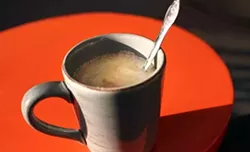 Boozy Hot Chocolate
½ cup heavy cream
2 tablespoons powdered sugar
½ teaspoon vanilla extract
2 cups whole milk
2 tablespoons Dutch processed cocoa powder
2 tablespoons sugar
6 tablespoons Frangelico or other flavored liqueur
1. Whip the cream with the whisk attachment of a stand mixer (or a handheld electric mixer) until soft peaks form; beat in the powdered sugar and vanilla.
2. Put the milk, cocoa powder, and sugar in a medium saucepan over medium heat. Cook, whisking constantly, until the cocoa powder is fully dissolved and the mixture begins to steam, about 5 minutes.
3. Divide the liqueur between two mugs. Add the hot chocolate to the mugs, and top with the whipped cream. Serve hot.
And another one from Morgan at Host the Toast: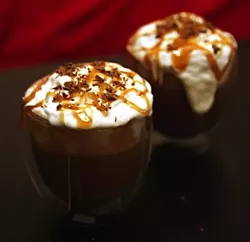 Adult Salted Caramel Hot Chocolate Floats
Ingredients
Hot chocolate, prepared as you like it. I recommend Ghirardelli Double Chocolate if you're not making homemade
1.5 – 3 oz Bailey's Irish Cream Liqueur, with a Hint of Caramel
1 heaping scoop vanilla ice cream (I used vanilla frozen yogurt, because that's what was available at the house)
Caramel sauce, chocolate shavings, and sea salt to top
Directions
Prepare your hot chocolate.
Put a shot to two shots of Bailey's "Hint of Caramel" Irish Cream Liqueur in a cup. One shot for small glasses and coffee mugs, two for beer mugs, highball glasses, etc.*
Fill the remainder of the cup halfway with hot chocolate.
Add a scoop of vanilla ice cream, drizzle with caramel sauce, and add chocolate shavings and a light sprinkle of sea salt. Enjoy!