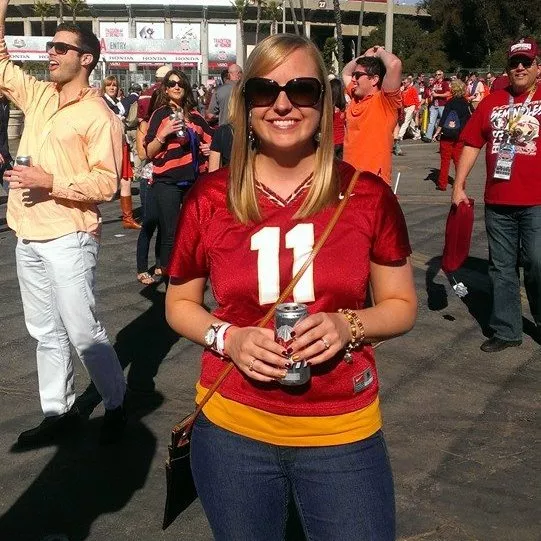 Garnet and gold! Lucky Noles fan Aimee Vitek got to go to the Pasadena Rose Bowl to witness the BCS game of a lifetime
Garnet and gold! Lucky Noles fan Aimee Vitek got to go to the Pasadena Rose Bowl to witness the BCS game of a lifetime
College football's Bowl Championship Series saw its final play this week, as the Florida State Seminoles and the Auburn University Tigers took the field at the Rose Bowl in Pasadena, Calif., on Jan. 6. And it's safe to say the BCS went out in stunning, down-to-the-wire fashion.
Thousands of fans from all over the country gathered at the historic stadium on a cool Monday morning for tailgating and game-day revelry. War chants and battle cries could be heard throughout the day as grill masters served up grub and the drinking games commenced – we even witnessed a crowd of drinkers chugging from a fan's prosthetic leg, but we'll try and erase that image from our memory.
Once inside the Rose Bowl, it was all business. Both teams came to Pasadena with their sights set on that beautiful, shiny crystal national championship trophy. For Auburn, the second-ranked team reppin' the lauded  Southeastern Conference, it was a chance to show their last-second win over powerhouse University of Alabama wasn't a fluke. For No. 1 FSU, it meant a trio of honors: a Heisman trophy, an undefeated season and their third national championship win.
Auburn quickly pulled away from the Seminoles in the first two quarters, and Tiger fans certainly felt an air of confidence going into halftime with a 21-10 lead. It might have taken the 'Noles a while to wake up, but after a fake punt and a 100-yard kickoff return by Levonte Whitfield, the 'Noles (and their fans in the stands) came alive – did anyone else hear the Seminole war chant being sung over, and over
and over?
In the end – and we mean the very end of the game – the Seminoles topped off the nail-biting game with a touchdown by Kelvin Benjamin in the last 13 seconds, which solidified their 34-31 win over the Auburn Tigers.
Fireworks exploded high above the Rose Bowl stadium as a teary-eyed head coach Jimbo Fisher and the Seminoles enthusiastically accepted the national championship trophy on the field. It was a fitting end to the BCA era, as the Seminoles appeared in the first BCS game back in 1998. Next year, a playoff system will be instated for the college football postseason.
For more photos from the BCS championship game, click through our Instagram photo gallery here.