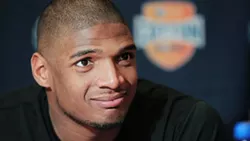 "The Daleks? I hear they're fielding a good team this year."
"The Daleks? I hear they're fielding a good team this year."
Last week, I started watching Doctor Who again after a hiatus of almost four decades. I was delighted to learn that, even all these years later, the good Doctor still stands for everything I had remembered: wit, imagination, an open mind and a big heart.
One of the side effects of immersing yourself in the show (especially binge-watching, as I did this past weekend) is that you start to look at time differently. By the time I clapped eyes on David Tennant, I had already heard the Tenth Doctor's celebrated manifesto: "People assume that time is a strict progression of cause to effect, but *actually*, from a non-linear, non-subjective viewpoint, it's more like a big ball of wibbly-wobbly... timey-wimey... stuff."
Now maybe somebody should tell the NFL. The revelation that Missouri's Michael Sam is the first openly gay college player to be up for a pro draft inspired all manner of futurist hand-wringing on the part of anonymous league officials, who fretted to Sports Illustrated that, at this point in history, the world of pro ball just isn't prepared for the sort of upheaval that hiring Sam would bring about. Worried one personnel assistant:
""I don't think football is ready for [an openly gay player] just yet. In the coming decade or two, it's going to be acceptable, but at this point in time it's still a man's-man game. To call somebody a [gay slur] is still so commonplace. It'd chemically imbalance an NFL locker room and meeting room."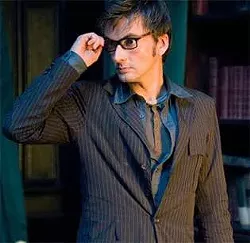 The Doctor reacts to the NFL's "chemistry" argument.
The Doctor reacts to the NFL's "chemistry" argument.
Now there's a chemistry textbook I'd like to read. While we wait for Amazon to get it back in stock, let's talk about this "coming decade or two" business, and why it's so easily dismissible an argument. The first reason is that it's based in simple cowardice. For centuries, the enemies of social justice have excused their obstruction by explaining that society just isn't ready to stop persecuting a certain group. One of the most recent, and most absurd, examples is President Obama's declaration that he was still "evolving" on the issues of marriage equality. Obviously, anyone who is genuinely "evolving" into a position doesn't know it until he gets there; what the President was really saying was that he had already reached the point of supporting equality but wasn't yet willing to stick his neck out.
The second reason our unnamed NFL friend's concern-trolling stinks on ice is more abstract, but just as important: It denies the very nature of time itself. And here's where I have to get all Doctor Who-y. Simply stated, the only reason we can envision something happening 10 or 20 years down the road is that we ourselves can imagine it right now. We assemble our vision of the future based on the intellectual resources that are currently available to us.  When we talk about "the future," we're really describing the present – an alternate present that's put together slightly differently, yet out of whatever raw material we already have lying around.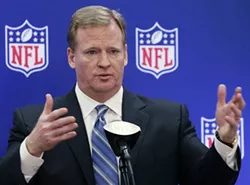 The NFL's Roger Goodell will get to the sissies as soon as he's done with those damn Injuns.
The NFL's Roger Goodell will get to the sissies as soon as he's done with those damn Injuns.
In other words, that harmonic utopia the NFL foresees coming about 10 or 20 years down the pike is one that exists this very second in a lot of people's imaginations. And since the change we're talking about is entirely attitudinal, there's no reason it can't happen swiftly, if not immediately.  There isn't a physical force on Earth that's preventing all of those NFL players from waking up tomorrow and realizing that showering with a gay man puts them at no risk of anything, or that a gay player won't be less committed to the team than a straight one, or whatever irrational phobia they're harboring. Is such an overnight epiphany likely? Maybe not. But it is possible. And the history of progress has been one of exploring the possible, instead of letting our unambitious conception of the "likely" trample all over human rights.
One thing's for sure: The NFL could make better use of the present by educating its people into accepting a Michael Sam than by whispering to reporters that it just ain't gonna happen anytime soon. Every second spent rationalizing the status quo is a second that could have been spent on ending it -- via sensitivity training, or open-sharing sessions, or whatever outreach efforts we could dismiss as so much crunchy Granola, save for the fact that they're known to actually work. And anyway, if I had to face God tomorrow – heck, if I had to face Doctor Who – I'd hate to have to explain that I had wasted my waking hours delaying the future instead of rolling out the welcome mat for it. Especially if all I had had to do was reassure a bunch of linebackers that gayness is nothing to get all wibbly-wobbly over.
---
Days without a response from the publication that plagiarized from me and won't come clean: 237.
Follow me on Twitter: @Schneider_Stv