It's Friday. It's Valentine's Day. You have some time to kill before you go on a hot date or before you go home and binge-watch
House of Cards
. Here are some links to get you through the last leg of your day:
1. In a million years, I bet you can't guess who is responsible for the first-ever written iteration of the word "fuck." Here's some hints: It took place in 1528 and the writer was religious.
2. Because it's Valentine's Day, I had to include at least a little  bit of "Awww!" I present to you an adorable tiny penguin who seems to have fallen in love with his keeper.
3. For all you Valentine's haters, here's something a little less twee. A Georgia sheriff has cancelled Valentine's Day. I mean, OK, he has a legitamite reason, but I think he was probably just trying to get out of buying his significant other chocolate.
BONUS: Hilarious (or horrible?) school closure video.
via
4. If you don't love Valentine's Day, but you don't hate it either, maybe you need to spice things up? This gallery of naughty moments from Fairvilla's Valentine's Party should get you started.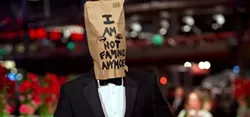 5. In ICYMI news, Shia LeBouef went an eensy bit crazy this week. Or did he become a marketing genius? I'll let you decide.