There are seven, count 'em,
seven new restaurants that just opened
in Orlando, as reported in this week's Tip Jar food news column. If you want to retain your foodie bragging rights, you'd better start making plans to visit them now (and to let that belt out a notch).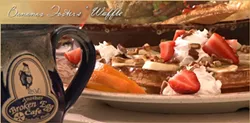 Winter Park Village
Um, they had me at biscuit beignets. Hell, they had me at the mere concept of breakfast appetizers. Followed by a lobster Brie omelet, I'd say they are "inspiring eggs to excellence."
2902 Corrine Drive
Sushi Lola's has kind of a rabid fan base. If you've ever been there, you'll understand. I mean, their Dirty Old Man roll is almost legendary (and our F+D editor might be addicted to their stone-bowl bulgogi bibimbap).
7512 Dr. Philips Blvd. Ste. 80
One word: risotto. They don't make it every day, but keep an eye on Stefano's Facebook to see when it's available. Don't let the lack of risotto keep you from going, though, because the entire menu looks delicious. (Like that steak up there ... Chef Steff specializes in hand-cut steaks and chops.)
710 W. Princeton St., Suite C
Offering smoothies, shakes, and juices in 16-ounce cups or 32-ounce bottles with ingredients like Swiss chard, dandelion and beets, this is a great place to get your healthy kicks.
12 N. Summerlin Ave.
If crêpes are your thing, Qarma Crêpes has you covered on both the savory and sweet side. Turkey + smoked gouda + apple? I'm eyeing you! You, too, Fluffernutter.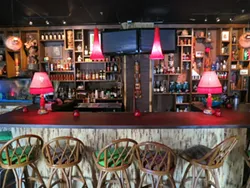 Aku Aku
431 E. Central Blvd.
If you'd rather skip the eating and get straight to the drinking, Aku Aku is for you. With more than 50 different types of rum and super-campy tiki-inspired barware, it's a fun place to meet up with your peeps after a long day at work.
via
Universal CityWalk
We've already covered the grand opening, but if you haven't had the chance to get out there yet, we recommend it.  In fact, it might be the perfect place to celebrate National Margarita Day on Saturday.