With this gray, mucky weather, there'll be no
nibblin' on sponge cake / watchin' the sun bake
on this year's
National Margarita Day.
But that doesn't mean you should give up. Whether you stick with a bottle of tequila, a lime wedge and some salt on the back of your hand or go HAM with one of La Cava del Tequila's crazy creations (see page 2), there's no excuse for remaining agave-free today. (And if you do feel like going out, check out our gallery of
17 places to celebrate
.)
First up: The master of the margarita (not to be confused with The Master and Margarita) is, obviously, Jimmy Buffett. The Hawaiian-shirted lord of middle-class misrule has his own branded chain of tequila fueling stations, but if you're grounded on a coral reefer and can't make it all the way to Universal, the fine folks repping Margaritaville have shared their version of the Perfect Margarita:
ingredients
1 ounce Margaritaville Gold Tequila
1 ounce Cointreau orange liqueur
1/2 ounce citrus sour
Floater of Gran Gala
method
Add Margaritaville Gold Tequila, citrus sour and Cointreau to a shaker with no ice. Shake and pour into iced glass. Add a float of Gran Gala. Garnish with a sugar rim and a lime wheel.
Next page: three crazy-creative margarita recipes from Epcot's very own "tequila ambassador."
Born in the actual city of Tequila in Jalisco, Mexico (yes, there is one) Epcot's tequila ambassador, Hilda, is said to "know everything there is to know" about the 75-plus tequilas carried at La Cava del Tequila (located in Epcot's World Showcase in the Mexican temple). Here are the elements that go into three of La Cava del Tequila's fancy margaritas.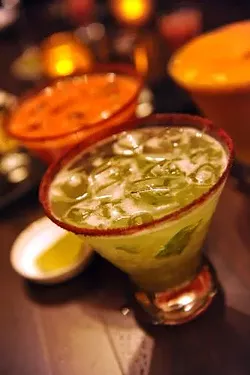 Jalapeno Margarita
Avocado Margarita
1 1/2 ounce silver tequila
1 1/2 ounce melon liqueur (like Midori)
1 slice of fresh avocado
1/2 ounce agave nectar
1 1/2 ounce fresh lime juice
1 1/2 ounce orange liqueur (like Grand Marnier)
ice
hibiscus salt rim
Horchata Margarita
1 1/2 ounce silver tequila
3 ounce rice water
1/2 ounce horchata liqueur (like Ricura)
1/4 ounce cinnamon whiskey
1/2 ounce agave nectar
ice
cinnamon/sugar rim
Jalapeno Margarita
1 slice of jalapeno
3 slices of cucumber
1 1/2 ounce silver tequila
1/2 ounce orange liqueur (like Grand Marnier)
1/2 ounce fresh lime juice
1/2 ounce agave nectar
ice
hibiscus salt rim
next page: Cocina 214's famous elderflower margarita.
Cocina 214 holds a National Margarita Day celebration today, complete with a cocktail contest judged by  local celebs. But if you'd just rather make your own, they've shared the recipe for their famous Elderflower Margarita.
ingredients
1 ounce St. Germain elderflower liqueur
1 ounce El Tesoro tequila
4 raspberries
1/2 ounce agave nectar
1/2 ounce Grand Marnier
1/2 ounce of each orange juice, pineapple juice, lime juice and cranberry juice
method
Muddle raspberries. Mix ingredients together with ice and shake. Pour into a chilled martini glass and serve up.
next: a small local company offers an all-natural margarita mixer.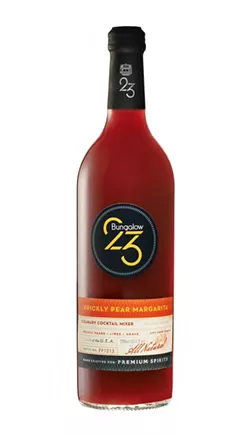 Rick Ferrone and Chris Henderson created Bungalow 23, a line of all-natural bottled mixers, to simplify home mixology. The Orlando-based company is named after Ferrone's Audubon Park bungalow, built in 1923. Their Prickly Pear Margarita mixer is a cool pink concoction of lime, orange and watermelon juices, blue agave nectar, and Mexican prickly pear (aka cactus fig). For the easiest Margarita Day recipe of all, just open a bottle and add silver tequila.
Bungalow 23 mixers are available at the Meat House and the Ancient Olive in Winter Park; Cork and Olive in Lake Mary; Funky Monkey Wine Co. in Mills 50 and on I-Drive; Cavallari Gourmet in Oviedo; and Vines Wine & Spirits in Orlando. Prices range from $12.99 to $14.99.