Repeat after me: Just a couple hours till happy hour. Just a couple hours till happy hour. Feel a little bit better? I have some more good news for you. The Internet has provided me with five awesome links (and two bonus videos) to help you slog through those long, sluggish hours. You're welcome.
1. Holy crap, is this panther kitty cute or what?! He was discovered in the wild three weeks ago by biologists from the Florida Fish and Wildlife Conservation Commission (FWC) and the Conservancy of Southwest Florida. Yesterday, he arrived at the Lowry Park Zoo in Tampa, where he will be rehabilitated until he is well enough to moved to his permanent home at Ellie Schiller Homosassa Springs Wildlife State Park. If you can't wait to see him in person, I highly recommend checking out the cuteness in this video.
2. This week was Jimmy Fallon's first week hosting the Tonight Show. You guys, he's killin' it! Last night he had Michelle Obama on and, ever the good sport, she participated in an SNL-esque sketch. Other highlights from his first week? Brian Williams' rendition of Rapper's Delight and Jimmy's $100 bet.
3. As Floridians, there are some problems that the rest of the country just can't understand. You know, like breaking out the tights and winter coat when the temperature dips below 70 degrees. This gallery highlights some of the best found on Instagram.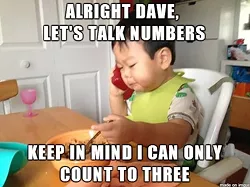 4. This new meme from Reddit is kind of hysterical. Following in the footsteps of Success Kid and Drunk Baby, it appears that Business Baby is destined for short-lived Internet stardom.
5. Internet fakers beware: Scientists are working on  a social media lie detector. No longer will you be able to pull those hilarious celebrity death hoaxes or share those ancient internet rumors. No, Coca-Cola is not now, nor will it ever be, an effective contraceptive.