It's the final week before the Oscars. Voting for Academy members ends tomorrow. If you're an Academy member, that's great for you, but the rest of us want a say too. (Isn't that why the internet was invented?) With that, we bring you our yearly take on who we would vote for if any of us were Academy members.
Though the Oscars themselves usually award Best Supporting Actor first, we'll start things off with Best Animated Feature. It's a category that seems to only have two nominees of note in Frozen and The Wind Rises.
Disney Animation Studios has been on a tear the last few years, starting with Tangled. They missed out on the Oscar last year in a sibling rivalry with Pixar's Brave, but I think that more of a demographic problem than a quality problem. Academy voters skew older, while Wreck-it Ralph skewed to the middle age-wise. They most likely have a winner this year with Frozen, which is probably going to cross $1b worldwide box office in the next few weeks, and will probably pass a billion memes shortly after. It feels, in fact, like I was the only person on the planet who didn't like Frozen. I didn't hate it. It just wasn't for me for whatever reason, though the cheeky line about not being allowed to marry someone you just met was one of the best lines of the year.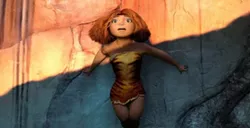 The Croods actually nailed everything except for the most important thing: the story. It was just so boring. The animation and cinematography are some of the best I've ever seen in a computer animated feature, and the voice cast of Emma Stone, Nic Cage, Catherine Keener and Cloris Leachman was tops (though the film violated my no Ryan Reynolds rule, I make sacrifices for you guys), but it didn't hit the adult half of the story, which is actually the key to having a great, timeless animated feature.
I liked Despicable Me 2 more than I care to admit, especially depressed Gru after Lucy leaves, but the film's plot doesn't hold up to the development of the characters. That's a shame, but it's not unheard of in any form of filmmaking.
As a swansong, you could do a lot worse than something like The Wind Rises. The legend Hayao Miyazaki isn't leaving us totally, but this is going to be his last feature animation. Though the story is politically loaded (and come under a lot of right wing fire for its stance on Japan's involvement in WWII, and from the left because of the smoking), it's chiefly a love story, one between man and woman, and another between man and aviation -- two themes that mirror Miyazaki's own career. It opens at the Altamonte Mall and Waterford Lakes on Friday.
Ernest and Celestine, unfortunately, hasn't been released here yet, so we haven't seen it, though it does look quite good from the trailer. It comes out in some theaters on Friday, but I haven't heard anything about Orlando theaters.
The Nominees:
The Croods - Kirk DeMicco, Chris Sanders, and Kristine Belson (Dreamworks/Fox)
https://www.youtube.com/watch?v=zBdiFU6DgpE
Despicable Me 2 - Pierre Coffin, Chris Renaud, and Chris Meledandri (Illumination Entertainment/Universal Pictures)
https://www.youtube.com/watch?v=TlbnGSMJQbQ
Ernest and Celestine - Benjamin Renner and Didier Brunner (Studio Canal/GKids)
https://www.youtube.com/watch?v=PyU-mSUOnSs
Frozen - Chris Buck, Jennifer Lee, and Peter Del Vecho (Disney)
https://www.youtube.com/watch?v=OSi2pEjrG7Y
The Wind Rises - Hayao Miyzaki and Toshio Suzuki (Studio Ghibli/Touchstone Pictures)
https://www.youtube.com/watch?v=imtdgdGOB6Q
The Winner:
The Wind Rises takes it for me, and not just as a lifetime achievement award for Miyazaki. It's a rich, layered story that holds the attention for it's entire running time without the use of comedy, and the animation is typically brilliant. It's not his best film -- it's not even his best film about flying (Porco Rosso ftw) -- but you can't hold that against it. Even as a middle Miyazaki, it stands above the other nominated films.