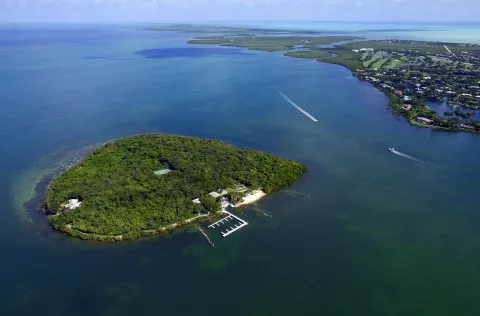 Glorious Pumpkin Key awaits you.
Glorious Pumpkin Key awaits you.
Sure, you could shimmy on down to the Florida Keys and pay a few hundreds bucks for a hotel like all the other lame-o tourists, or you could stop pussyfooting around and just buy your own private Key so you never again have to worry about bumping into a gaggle of drunk college kids in Ohio State swim trunks. Widow Jane Berry is selling her 26-acre Pumpkin Key for the bargain basement price of $110 million through Sotheby's International Realty. Included with the island, which lies north of Key Largo, is the main single family house, a couple caretaker's cottages, a boat captain's apartment, a 20-slip marina, and a tennis court that double as a helipad (that's some James Bond shit!). Not included: the Professor, Mary Ann, Hervé Villechaize, or the proper amount of ascots needed to be worn by the owner of such an auspicious property. What better time than now to leave our mainland and begin your lifestyle as a true rich island eccentric? Hurry up before Alec Baldwin gets wind of this.