Joey and the War Horse cast arrive at Orlando Bob Carr
The Tony- and Oliver-Awards winning play War Horse charged into Orlando's Bob Carr last night, and to say I had high expectations would be an understatement, considering that the show's equine star made my 2013 best-of list simply for his brief surpise appearance at FTA/Broadway Across America's season announcement party. Luckily, this touring company doesn't disappoint; despite some downsizing from the epic arena-style Lincoln Center staging, most of the production's lauded theatrical magic made the transition intact. On the morning of War Horse's Orlando debut, I had the opportunty to meet and interview War Horse cast member and UCF alumn Michael Wyatt Cox, who plays the human protagonist "Albert", along with three of the puppeteers who animate his co-star "Joey."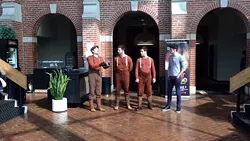 The event in the lobby of the Bob Carr was hosted by FTA CEO Ron Legler, and attended by University High School thespian students.
Here is part one of the event, featuring an appearance by Joey:
[youtube xvwr61JMnvA]
Here's part two, featuring a Q&A with the cast:

[youtube YF6-NZvzY-w]

War Horse plays Orlando through Sunday, 3/2/2014. Tickets are available through Ticketmaster.