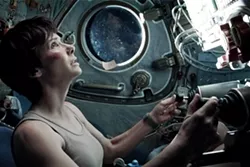 It's a little strange to see Roger Deakins up for this award, and a Coen Brothers film up for this award, and for it not to be for the same film. But timing is everything when you're making a movie.
Prisoners feels more like a nod to Deakins more than anything having to do with the film though. It's a nice looking film, especially the rain scenes, and it really captured that working class suburban feel that some parts of Pennsylvania have, but it wasn't above and beyond. It was just nice.
There is little to no chance that Gravity doesn't win this award, and I don't have a problem with that at all. I went to see it twice in IMAX 3D and it was a great experience both times. It won't be the same watching it on bluray. It's immersive and stunning and does all the right things to make your heart beat faster when Ryan Stone's heart beats faster. Emmanuel Lubezki is a brilliant director of photography; he's been nominated for this award six times now (he, too, worked with the Coens on Burn After Reading, though that wasn't one of his nominations). There is some question of where his work ends and the VFX teams begins, but very little. I doubt very much that there is a single frame in the film that Lubezki didn't supervise in some way.
I was glad to see black and white make an appearance this year in Nebraska. Color and black and white used to be two separate categories for cinematography as the studios made the transition. The lack of color works for Bruce Dern and Will Forte's performances, which the whole film is about, but maybe not some of the wide shots of the road. But we've seen the vistas before, we know what they look like in color. Thankfully Phedon Papamichael and Alexander Payne avoided the dreaded splitscreen shots that they stuffed into Sideways.
As with every other Wong Kar Wai film, The Grandmaster is delicately and beautifully composed, something that is true for both cuts of the film. But Philippe Le Sourd's personality gets lost under the weight of Wong Kar Wai's. If it has to be judged on the American cut of the film too, there are title cards that seriously mar the face of the film. I wonder if it was WKW's subtle protest, or if he had nothing to do with it at all. Either way, they hurt an otherwise beautiful film.
Meanwhile, everything about Inside Llewyn Davis and Bruno Delbonnel's work on it is perfect and I won't entertain any other opinions on this.
The Nominees:
The Grandmaster – Philippe Le Sourd
https://www.youtube.com/watch?v=VXiuxmvH0Ic
Gravity – Emmanuel Lubezki
https://www.youtube.com/watch?v=kWCo8FMe5ic
Inside Llewyn Davis – Bruno Delbonnel
https://www.youtube.com/watch?v=oWQ6DuW3Brs
Nebraska – Phedon Papamichael
https://www.youtube.com/watch?v=BlkBFXrwjfk
Prisoners – Roger Deakins
https://www.youtube.com/watch?v=LLw_zM4hQWc
The Winner:
Bruno Delbonnel for Inside Llewyn Davis. There is possibly a little bias in my pick about the fact that Llewyn got snubbed so badly. It's a really subtle film. I've seen it three times and I've definitely noticed more and put more together each time I've seen it. Films released late in the year don't necessarily have the luxury of being seen multiple times though.