We're getting down to the wire, so we're gonna bust through Best Supporting Actress and Best Supporting Actor in one post. Be warned, it's two pages, so if you wanna know our predictions for both, you'd best click through to the second page!
Best Supporting Actress, let's do this!
Sally Hawkins has had my heart since her starring role in Mike Leigh's Happy-Go-Lucky. She holds it there with her performance in Woody Allen's Blue Jasmine, as the working-class woman who takes in her former socialite sister, played by Cate Blanchett. Hawkins moves fluidly between comedy and drama and lends such a strength of character to Ginger, that you almost can't believe she's not someone that you've met in real life. Don't tell anyone, but I personally think she did a better job than Cate Blanchett. However, this is a strong-ass category this year, so I think Hawkins should probably just sit back, relax and enjoy the party. And, you guys, she's British. There's no trace of an accent there!
Jennifer Lawrence is like the American actress of the 21st century, right? She's pretty much won the hearts of America, can fall down at the Oscars and everyone thinks it's adorable and, most importantly, the girl can act. Her turn as an unhappy housewife in American Hustle just drove that point home further. She turns on a dime from flirty to rage-y without so much of a blink. The scene with the "space oven" has got to the one that won her the nomination. The audience kinda felt her pain, and her rage, but also couldn't help but giggle, just a little bit. If she wins this year, Lawrence would be the third woman to win back-to-back Oscars.
A year ago, you could have asked someone who Lupita Nyong'o was and they'd probably return your question with a blank stare. Today, she is more widely known, both for her Oscar nomination and her keen fashion sense on the red carpet during awards season. Both of these are very well deserved. In 12 Years a Slave, Nyong'o almost literally breaks hearts as an illiterate slave living on a Southern plantation. When I watch a movie, I always look for that one scene that I am unable to shake. As Patsey, Nyong'o gives me two. Her brutal, hard-to-watch whipping scene and her collapse (spoiler alert!) when Solomon leaves a free man. Her performance made me feel, long after I was done watching the movie.
I'll fully admit that I didn't see Julia Roberts' performance in August: Osage County, so I can't fully judge her as a nominee in this category. Her buzz for a win is pretty low and, like Sally Hawkins, she should just have some drinks and watch the winners stumble over their speeches.
There is always one movie I fall a little bit in love with every year. Nebraska was that movie for me this year. A long time Alexander Payne cheerleader, I was kind of expecting this to happen, but what I didn't expect to happen was falling a little bit in love with June Squibb. I think, more than anyone else in this category, she inhabited her character wholly. There was nothing about her, from her movements to her speech that gave any doubt to the conviction with which she played long-suffering, foul-mouthed, Kate Grant. At 84 years old, she's the oldest nominee in the category and if she wins, she'll be the oldest acting winner ever.
The Nominees:
Sally Hawkins, Blue Jasmine
Jennifer Lawrence, American Hustle
Lupita Nyong'o, 12 Years a Slave
Julia Roberts , August: Osage County
June Squibb, Nebraska
The Winner:
This one is a tough one. It's really down to Jennifer Lawrence for American Hustle or Lupita Nyong'o for 12 Years a Slave. Because Lawrence won last year and Nyong'o's a newcomer, I'm gonna say Nyong'o's our winner. However, I always fill out my own personal Oscar ballot with my heart, so it'll say June Squibb.
Click here to read our predictions for Best Supporting Actor!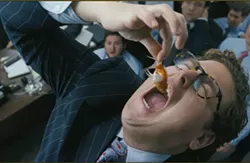 Now, on to the boys, er, men:
Many actors are awesome at surface acting. You know what I'm talking about: the faces are great, the body movements are great, the voice is great, but something's missing ... the acting doesn't go all the way to the eyes. Barkhad Abdi had the eyes from the first time he came onscreen. His last role before Captain Phillips was a limo driver. Not in a movie, an actual limo driver. It would take other people years and years of study to pull of what he did in this film. I found him absolutely chilling.
I don't think Bradley Cooper ever had a shot at winning an award this year. This was more of a "Hey, Bradley, hey!", come to our award show and look super-hot and be super-charming nomination. That said, he did a standup job in American Hustle and I thoroughly enjoyed watching him create his character. One thing that I found extremely impressive was Cooper's subtle coke-mouth. For a movie about the seventies, there was little to no mention of cocaine, but watch his mouth. It's obvious, without being in-your-face that he is hiiiiiiiiigh.
I'll probably get all kinds of shit for this one, but I was meh on Michael Fassbender's performance in 12 Years a Slave. Alongside the absolutely amazing performances by co-stars (and fellow nominees) Lupita Nyong'o and Chiwetel Ejiofor, his just came off a bit substandard for me. Not that it was bad by any means, but I just don't think it was Oscar-nomination worthy. I think he benefited from being in a film that was destined to become an Oscar darling and he rode the coattails all the way to Sunday. He (and Sarah Paulson) did make me hate white people for a little bit, though.
It makes me indescribably happy that Jonah Hill got nominated for a second Academy Award. His performance as a crack-addicted stock market hustler made The Wolf of Wall Street for me. He does unhinged like nobody's business. Leonardo DiCaprio was fantastic, of course, but I don't think he would been able to pull off his role without Jonah Hill. If there was an award for best on-screen, non-romantic chemistry, it would, without a doubt got to DiCaps and Hill. If you haven't seen the movie yet, the lemmon scene is worth the price of admission, trust me.
I seriously can't even type about Jared Leto in Dallas Buyers Club without getting a bit teary. He was perfection. He disappeared into his role as Rayon. It was more than just clothes and makeup though; it was as if he became a completely different person. Writers Craig Borten and Melisa Wallack may have written the character, but, without a doubt, Jared Leto created Rayon. He portrayed a range of emotion, from wacky and hopeful to utterly destroyed. According to most predictions, he's the front-runner for the win.
The nominees:
Barkhad Abdi, Captain Phillips
Bradley Cooper, American Hustle
Michael Fassbender, 12 Years a Slave
Jonah Hill, The Wolf of Wall Street
Jared Leto, Dallas Buyers Club
The winner:
Without a doubt, Jared Leto. He's got this in the bag.