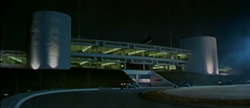 4400 N. Alafaya Trail in its starring role.
4400 N. Alafaya Trail in its starring role.
Location Matters is a series that reflects upon pieces of Orlando immortalized in popular film.
At six years old, I suppose I was the target audience for 1985's D.A.R.Y.L., the family movie about a government-built child android who escapes into our world and discovers the joys of little league and video games (and who also has to evade his federal creators in many harrowing scenarios). I was definitely interested when I saw the commercials on TV. Wow, a kid robot who steals planes and goes on car chases! I want to steal planes and go on car chases! D.A.R.Y.L. became a topic of conversation on the playground amongst my young snot-soaked associates, but it didn't really stand a chance in our hearts next to that summer's other kid-enticing movies such as Goonies, Pee Wee's Big Adventure and Follow That Bird (I nearly chewed my lips off during the car ride to Follow That Bird; nothing's ever been that exciting before or since).
I eventually saw D.A.R.Y.L. and no, it did not measure up to the white knuckle excitement of watching a giant yellow Muppet hitchhike across America, but it still stuck with me. For a stretch of time there it seemed like I was the only human alive who remembered D.A.R.Y.L. I specifically remember this timespan as being college, which is ironic because I went to the University of Central Florida, and just across the street from UCF's main campus on North Alafaya Trail is the office building that doubled as the government facility in D.A.R.Y.L. Director Simon Wincer (Free Willy, The Phantom) chose to film much of his 1985 child cyborg movie in Orlando, but the office at 4400 N. Alafaya is the big enchilada. That's the very birthplace of our Data Analyzing Robot Youth Lifeform!
Built in 1983 by Westinghouse Energy, the structure and surrounding properties were sold to Siemens in 1998. Today the complex houses a main branch of Siemens Energy, where scientists work furiously to, uh, make wind-powered iPhones? My grasp of what happens there is sketchy, but I can tell you once the sun goes down, the front of that building remains as ominous and foreboding as it did in D.A.R.Y.L. Driving through the parking lot last night, I succumbed to an acute case of the willies. The rooftop satellites and military jeeps may be long gone, but the architecture has never not suggested "odd goings on." It's those squat cylindrical columns. Something about them screams "far out communist laboratory."
During the day, Siemens Energy looks more or less like just another business complex, a corporate nonentity nestled in the heart of Golden Knight territory. The most excitement you're likely to see is at lunch when assorted Siemens workers mosey out and have mild disagreements over who makes the best loaded pork quesadilla, Chili's or Applebee's or Fridays or [similarly tacky family eatery].
Other D.A.R.Y.L.-related points of interest around town: Kaley Elementary School, where they filmed the school scenes; the Orlando VA Medical Center, location for the hospital scenes; and 716 Euclid Ave., home of D.A.R.Y.L.'s adoptive parents (obviously this is a private residence, so maybe don't go over there and creep everyone out by reenacting the cookout sequence).
One of the film's car chases also appears to mash together bits of our "beloved" I-4 and the 528. Although no instantly recognizable Orlando landmarks roll by during the authorities' pursuit of D.A.R.Y.L. the chase climaxes with a pretty sweet Dukes of Hazzard-style divider jump that ends with two police cruisers landing roof-first. Just imagine that's the holdup the next time you're sitting in I-4 gridlock.