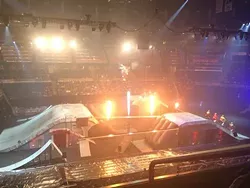 Nuclear Cowboyz opening night at Orlando's Amway Center (photos by Seth Kubersky)
Nuclear Cowboyz, the mesmerizingly meshuggenah mash-up of X-games-style extreme motorcross and Shaolin martial arts, made an explosive entrance at Orlando's Amway Center last night. The show, which I previously previewed, is essentially a high-octane circus aimed at adolescent boys, bringing high-flying stunts and special effects together with a simple B-movie storyline.
To be honest, there are only so many ways you can jump a motorcycle through the air, but this well-packaged production distracts from any monotony by surrounding the flipping bikes and kicking monks and with dancing girls, pounding music, and (the best addition since the dress rehearsal I attended last year) prodigious eyebrow-singing pyrotechnics.
The cliche plot is cribbed from Running Man and Enter the Dragon, and the lip-synching emcee is an awkward distraction. But the cast's physical prowess is awe-inspiring, and the aggressive technical elements will keep you upright in your seat even after a beer or three.
Nuclear Cowboyz has one more Orlando performance at 2 p.m. Sunday, March 9. With tickets starting at only $20 for adults, and $10 for kids 15 and under, your teenager (actual or inner) will easily get their money's worth in addreneline.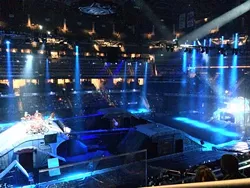 Here's a video of the opening minutes of the show, featuring the introduction of the Nuclear Cowboyz and a small sampling of pyrotechnics:
[youtube L8z2RbPfUaY]