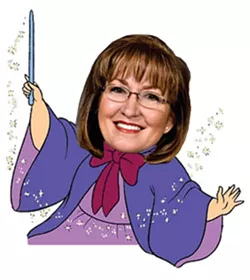 OK, so we decided to skip our morning coffee – oh, shuddup, we can't even put caffeine atop this anthill of personal anxiety – and watch the public comment portion of today's Orange County Board of County Commissioners meeting discussing the
horrible, bad, no-good Fred Brummer charter amendment proposal
. OMG, that was a bad idea. Anyway, everything we've already pointed out in the referenced Happytown article is being summarily addressed by a lot of good folks in the audience, some of whom have taken to applause-worthy hyperbole: Attorney Mary Meeks basically turned Brummer's own "divisive and destructive" ordinance language on his own damn self; her wife Vicki Nantz reminded the dais that they are all FUCKING REPUBLICANS so stop pretending that this is even at all nonpartisan; Organize Now members Paul Heroux and Stephanie Porta summoned textgage while pointing out that, uh, they've lived here forever so they are not OUT OF TOWN SPECIAL INTERESTS; Tax Collector Scott Randolph reminded everyone that there's already been a task force to eliminate his office that did not recommend doing so AND that there is already a charter review board that also did not recommend Brummer's actions. Some reminded everyone that Gov. Rick Scott would be APPOINTING Hispanic appointees to the proposed two new districts. Embattled Republican DOUG FUCKING GUETZLOE spoke against it, somewhat brilliantly ("You wanna get rid of Scott Randolph. Run someone against him). It got really hot in here for a minute.
But more pernicious were the stacked, talking-point holding commenters obviously assembled by the Republicans like attorney Wade Vose who are behind this whole charter amendment. Many had no idea what they were talking about, most were old or blond or vaguely Hispanic (one wore a pink NIMBY sweater over her shoulders), all read from the very same memo that was handed out last week at a pro-charter-amendment meeting for local Hispanics at Colonial High School (see tomorrow's Weekly for more on that), some were clearly Brummer's poker buddies. Whatever, it was distressing.
Jacobs pointed out that two members of the board won't be present at the March 25 followup meeting, so who knows where this is going. But, somewhat surprisingly (or strategically), Jacobs also issued a memo just before the meeting stating that she did not support the rush job special election, for what it's worth. There were 50 speakers scheduled when we last checked, and I think we've only been through 25. There will, says Jacobs, be another public hearing on this. (Seems like someone has to go to the bathroom, so there might be a break).
UPDATE: The board is discussing all of the pieces and parts of the Brummer thing, and none of them agree, which means HOW THE HELL ARE WE SUPPOSED TO HAVE A UNIFIED OPINION. We know that Mayor Jacobs and Commissioner Tiffany Moore Russell are against a special election with the latter (the lone Democrat, obvs), saying she doesn't even support another public hearing (Jacobs seems sort of against a public hearing too, and wants to push a lot of the redistricting piece to next year). Moore Russell also brought up the racism of creating uniquely ethnic districts. Also, too, none of this makes sense, even now.
Brummer is now speaking of a "substantial urgency," and getting rid of the May mailout ballot altogether because if we can't do this on March 25 – because two commissioners will be on vacation, and nobody told him – then we can't even get the ballots printed. Now he's supporting having a meeting in April and putting all of this on the August ballot. "What's happened in the past is the past; in the forward, we're going to do better," whatever that means. THIS SHIT IS CRAZY.
UPDATES! The commission doesn't know what it's talking about. Public hearing on April 8 is possible, but doesn't seem likely. Brummer's amendment – or special election – appears dead in the water. Workshop April 8, public hearing a few weeks later. Seems like the whole thing has returned its focus to the redistricting issue, which, an expert said, would take up to six months. The other issues will be parsed, sans special election, as workshops and followed by hearings. All of which goes to prove that this whole piece of foul legislation was a dumb move to begin with. It's author, Brummer-acolyte and Republican attorney Wade Vose reportedly (we heard from a friend) exited in the lobby, shouting into his cell phone, "they fuckin' killed it."
Just another day in Orange County.
But here are some photos of Jacobs' memo we received this morning.