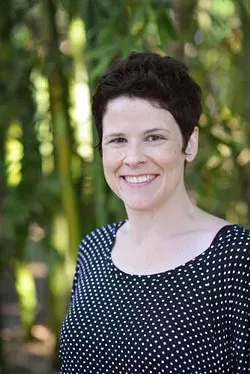 Remember Orlando's Mystery Fun House? A gallery of photos from then and now.
Welcome to 19 Questions, a feature where we ask longtime Orlando residents 19 questions that are mostly related to living in the City Beautiful.
Theresa Lemonier is another native, born and raised here in Jamlando. She's spent 20 years working for CenturyLink and currently lives with her husband and daughter in Apopka.
1. Who's your favorite Orlando resident, living, dead, real, or fictional?
Harry P. Leu from Leu Gardens. He's responsible for bringing a lot of the native plants here, and I grew up going to Leu Gardens ... I actually ended up getting married there.
2. What's the best meal you've ever eaten in Orlando?
Lamb kabobs at Bosphorous, the Turkish place off Park Avenue in Winter Park.
3. What was your first concert in Orlando?
Oh, do I have to admit it? [sighs] It was Menudo in 1987 at Seaworld, at what is now known as Shamu Stadium.
 4. When's the last time you went to a theme park?
Well, I've got a three-year-old, so I'm about to do the annual pass thing. I used to live with my best friend who worked for Disney
and we used to go all the time, but not for a whole day. Just to ride a few rides. I'd say [the last time] was more than eight years ago.
5. Favorite beach?
New Smyrna. I prefer quiet to all the touristy places.
 6. What's your favorite Orlando attraction that no longer exists?
Mystery Fun House.
Remember Orlando's Mystery Fun House? A gallery of photos from then and now.
 7. What do you hate most about living in Orlando?
Everybody is very transient. I'm the only native in a family full of yankees. It's hard here to find the same sense of community you find up north.
8. What do you hate least about living in Orlando?
Oh, the weather. I wouldn't know what to do if I had to shovel snow!
 9. Hungry Howie's: pro or con?
Pro after late-night drinking. Con if there's no alcohol involved.
10. In one word, describe your day job.
Methodical.
11. What's your favorite coffee spot in Orlando?
Any Starbucks
but I used use to go to Harold and Maude's [Espresso Bar] all the time, and Yab Yum.
12. Do you have an alcoholic beverage of choice?
Malibu rum and Diet Coke. Malibu rum and pineapple is just too sweet.
 13. What do you think of Delta Burke?
She's from around here, isn't she? I don't really have an opinion. She was a beauty queen, and I'm not into the pageant scene. She didn't seem to add much to Designing Women, you know?
14. NASA: pro or con?
Pro.
15. 'N Sync or Backstreet?
None of the above. By the time they were around, my musical taste had evolved into alternative. I'm a grunge kid.
16. How much is too much to spend on a Mickey Mouse t-shirt? 
If my daughter wants one, there's no limit. For myself? Five dollars.
17. When's the first time you were on OBT?
My first time there was my first tattoo experience, so there you go. I got theater masks.
A stunning ode to Orange Blossom Trail through photos
18. Captain EO: pro or con?
I was definitely a fan of Michael Jackson before he got weird ... and I think this was before that? So pro.
19. What makes someone an Orlandoan?
There's not many of us so
probably living here long enough to see how it's morphed and changed. You know Tom and Jerry's that just closed down? I can remember being a kid and asking my mom if Tom and Jerry [from the cartoons] really lived in that building.