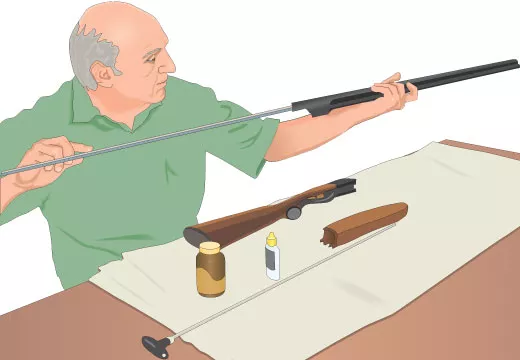 image via hunter-ed.com
If last week's news of a man shooting a 12-year-old girl and then himself in error feels like deja vu, that's because it is.
Four negligent discharges of firearms were reported by the Orlando Police Department since the year began, and in only one of those shootings did a bullet avoid human flesh. It's become painfully apparent (literally) that accidental shootings are commonplace in Orlando these days.
The most recent incident underscores an increasingly embarrassing series of episodes void of responsibility and illustrative of gun-culture irony.
Ventura Santos Mateo, 60, was preparing to clean his 9mm Sig Sauer pistol on Feb. 28 when he made the terrible mistake of putting his finger on the trigger while pulling the slide back -- which caused the gun to go off. According to a police report, Mateo later said that he thought the round struck his garage floor, but in reality it traveled outside his Le Mesa Street home and into neighborhood traffic, ricocheting off the passenger door beam of a passing Dodge and meeting the arm of 12-year-old Elizabeth Castro.
Elizabeth's father, Rafael Castro, 42, heard the gunshot while driving home from Sea World with his two children, but was strangely unaware his daughter had been wounded until parking in his driveway.
When the gun went off, Mateo freaked out and again tried to clear the weapon by pulling the slide back -- finger on the trigger -- and then shattered his left femur with another unintentional shot. Neither injury was life threatening, but you can bet Mateo's wound was agonizing.
This follows a chorus of forehead-slapping episodes in the last two months. On Feb. 16, a man showing off safety features on his 1911 .45 at an Ale House on South Semoran Boulevard mistakenly shot a round off, lacerating a nearby woman's leg. On Valentine's Day, a man used a concealed pistol to retrieve money stolen from him in a gun sale gone bad (this occurred after a car chase down Orange Avenue) and accidentally shot a round into the road, prompting his arrest by Orlando Police. On Jan. 20 a man shot himself in the leg during an escalating road-rage incident while driving on I-4.
Interestingly, the Valentine's Day case resulted in an arrest, but the accidental shooting on Le Mesa did not.
Florida Statute 790.10 says that anyone displaying a firearm in a "rude, careless, angry, or threatening manner, not in necessary self-defense," is guilty of a first-degree misdemeanor, and Florida Statute 790.15 says that anyone who knowingly, "recklessly or negligently discharges a firearm" outdoors or in residential areas is guilty of the same.
Orlando Police say that Mateo is innocent because he "did not did display his weapon in a rude, careless, angry, or threatening manner," or for that matter intentionally try to shoot anyone.
But anyone trained in gun safety procedures -- namely keeping your finger straight and off the trigger until it's time to shoot -- might beg to differ about OPD's definition of "careless" in this particular episode.
Police also said that "Mr. Santos' lack of familiarity with this firearm and his lack of proficiency may have been a contributing factor to the gun discharging," bringing up an astute point: Gun rights are not necessarily congruent with gun safety.