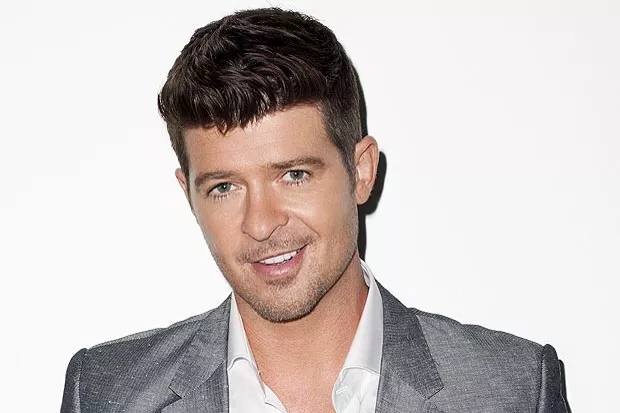 Robin Thicke has recheduled his Universal Orlando Mardi Gras appearance for June 7.
Last month, a last-minute cancellation due to a "lost voice" scuttled the planned Orlando appearance of R&B superstar Robin Thicke, who was originally scheduled to headline the "media night" concert at Universal Orlando's Mardi Gras on February 22. (Media reports shortly after revealed that Thicke had spilt with his wife, and he was photographed with his children in Disneyland, but that's a story for another kind of website...) Universal said at the time that Thicke would reschedule, and today they proved good to their word as Mardi Gras extends until June 7, with Robin Thicke performing on closing night of the event.
Incidentally, since the Daylight Savings Time change, all Mardi Gras concerts are now scheduled to start at 9:00 p.m., following the 8:15 p.m. Mardi Gras parade.
Here is the complete press release on the extension, with the full concert schedule, direct from Universal Orlando:
ROBIN THICKE SET TO PERFORM ON JUNE 7 AS PART OF UNIVERSAL ORLANDO RESORT'S 2014 MARDI GRAS CELEBRATION

Celebration Extends through June 7 – Giving Guests More Opportunity to Enjoy the Spirit of the Big Easy at Universal Studios Florida

The excitement of Mardi Gras now continues through June 7 at Universal Orlando Resort, with a live performance by GRAMMY nominated musician Robin Thicke (performance rescheduled from Feb. 22). The summer of 2013 marked the debut of Thicke's highly anticipated new studio album, Blurred Lines. The release quickly took the music world by storm and landed at #1 on Billboard's Top 200 while, "Blurred Lines," the single, set records around the world. It went to No. 1 in more than 100 countries and had a record-setting 12-week reign in the US at the top of the Billboard Hot 100. Robin continues to receive accolades for the album and single, including three GRAMMY Award nominations and four NAACP Image Award nominations.

Along with the live concert, guests can experience the spirit of the legendary Bayou bash during the dazzling Mardi Gras parade, featuring 12 vibrant floats, including three new additions celebrating Jules Verne's novel, "Around the World in 80 Days." Guests can also visit Universal Studios Florida's very own French Quarter Courtyard to enjoy delectable Cajun cuisine and see performances by bands pulled straight from Bourbon Street.

The excitement of Universal Orlando's Mardi Gras celebration is included with admission to Universal Studios Florida. For more information, visit www.universalorlando.com/mardigras.

2014 Mardi Gras Talent Line-Up

March 14 Cody Simpson

March 15 Foreigner

March 21 A Great Big World

March 22 Gavin DeGraw

March 28 Kelly Rowland

March 29 Weezer

April 5 Skillet

April 12 Lynyrd Skynyrd

April 19 Kool & the Gang

May 3 Nelly

May 10 The Wanted

May 17 The Roots

May 24 Cher Lloyd

May 31 Huey Lewis and the News

June 7 Robin Thicke




4:00 p.m. – French Quarter Courtyard Opens

8:15 p.m. – Mardi Gras Parade Starts

9:00 p.m. – Concert Begins