Downtown Orlando was overrun (overwalked, rather) with people--men, women and children--parading through the streets with their signs held high extolling, "Real Men Walk the Walk," to raise funds for Harbor House's "Walk a Mile in Her Shoes" campaign against sexual assault, Wednesday, March 13.
Harbor House collected $20,000 this year, a significant amount more than was raised last year, when the event first took place. Co-chairs Randy Ross and Mary Tiffany were both sporting classy pairs of high heels yesterday. Tiffany said they set the bar high this year, yet the goal was still achieved, to much relief of her and her colleagues. She made her own shoes for the walk, by the way, with little birds sitting atop the bridge of her toes.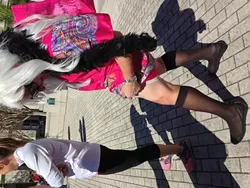 Bob Best, who lives in Orlando and commutes to Titusville, Fla. for work, said he walked the walk last year and it was an interesting experience, even though blisters burst out on his feet within the first five minutes. "It's an awesome cause. Enduring the pain for walking a mile in heels is nothing compared to what women and children go through," Best said. Alongside him was Mark Joseph, a full-time psychology student at UCF, who emphasized the fact that there is no reason in the world not to support this cause. "Harbor House is doing a great service," he said. This marked the first time he took to walking in heels in downtown Orlando, instead of wearing tennis shoes or sneakers, as men are wont to do. The much-marketed event encouraged big names in politics, the police force, and those with their own law practices to strut their stuff in thigh-high boots and heels festooned with glitter, feathers and rhinestones. Orange County Commissioner Pete Clark was there, Orange County Sheriff Jerry Demings, Deputy Chief John Mena, Property Appraiser Rick Singh, and you get the picture. They were all there to support the cause.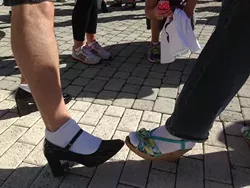 The walk wound its way from the courthouse down to Wall Street Plaza, near the Orange County Regional History Center. The sun shown through the clouds, yet a brisk chill hung in the air, while walkers literally stopped traffic, turning heads of drivers and passersby, peaking the city's curiosity as to what was happening. One participant said officials at the courthouse were not even aware of the event, though over a hundred people showed up to show their passion for the cause.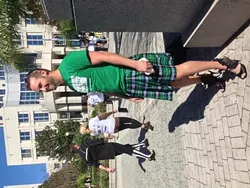 Before the walk, Bob Lee and Jen Spearman proudly displayed their getups for the walk; Lee explained that every star on each of his shoes represented $50 raised in donations for Harbor House. "I must have over $3000 invested in these shoes," Lee joked. "This is my second year, Jen's first, and we've made about $1521 this year." He said he must be in second place for the fundraising competition. Carol Wick, CEO of Harbor House, said that not only do women suffer from sexual abuse, one out of every five men is or has been a victim of this crime. "There are currently 60 females in our shelter and 35 males, most of them, boys," Wick said. For more information on this event, or to find photos of the most fantastic shoes in all the land, check out
our gallery
or go to harborhousefl.com