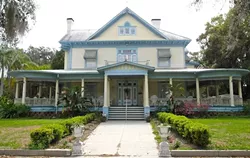 The cinematic pride of Bartow, FL. Photo by Izzy Sanchez.
The cinematic pride of Bartow, FL. Photo by Izzy Sanchez.
Location Matters is a series that reflects upon pieces of Orlando Central Florida immortalized in popular film.
Drive an hour southwest of our mighty Jamlando and you just might find yourself within the snug confines of Bartow, birthplace of footballer Marcus Floyd and Korean War general James Van Fleet. Film buffs might be more interested to learn Bartow contains the funeral parlor from 1991's coming-of-age classic My Girl, a.k.a. the movie where Macaulay Culkin [SPOILER ALERT] dies from a bee sting (or rather, Macaulay Culkin's character dies from a bee sting; Mac is still alive, occasionally making runs for the border).
Okay, yes, last week we strongly discouraged you from mucking about private residences immortalized in film, but 555 E. Stanford Street is a large and beautiful home that can easily be appreciated off-property from the sidewalk across the street. Dating back to 1908, the house originally belonged to Polk County lawyer Thomas Lee Wilson. Wilson probably had no idea his residence would one day be captured in one of those wacky "motion pictures" (which many considered a passing fad in the days of Teddy Roosevelt and the Model T). And yet it did, when director Howard Zieff decided to follow up his zany mental patient comedy The Dream Team with a 1970s period drama.
Zieff transformed 555 E. Stanford into the Sultenfuss Funeral Home for My Girl, business of widower Harry Sultenfuss (Dan Aykroyd). Harry continually struggles with raising tween daughter Vada (Anna Chlumsky) and his "hands off" touch breeds much frustration in the youngster. Luckily, she has a tow-headed neighbor boy to pal around with (Culkin). Also offering relief and guidance for Vada are a newly hired make-up artist at the funeral home (Jamie Lee Curtis) and her writing teacher/secret crush Mr. Bixler (Griffin Dunne).
My Girl was released in a tough spot November 27, 1991---one week after Disney's Beauty & The Beast and one week before Spielberg's tent-pole Hook---but the film still managed to make its mark. Roger Ebert gave My Girl 3.5 stars, praising the film's "heart" and various "very original and touching" scenes. A generation remembers this film as the last great entry in the original Macaulay Culkin canon (can you believe he made Richie Rich three years after this one?). And of course, thrash giants Anthrax used the "be dangerous and unpredictable...and make a lot of noise" quote Dunne speaks as Mr. Bixler not once but twice in their subsequent career.
The future star of "The Pagemaster" and the future star of "Veep."
In 1995, the Thomas Lee Wilson residence was purchased and opened as a bed and breakfast called the Stanford Inn, offering visiting snow birds a chance to luxuriate in a peaceful setting from decades past. Sadly, business began slowed to a fatal extent following the financial crash of 2008, and last year the Stanford Inn closed its doors to the public (who knows what role if any the Stanford's alleged paranormal residents played in that closure). Still, this gorgeous structure is worth at least a drive by for a flash of what Florida was like at the dawn of the 20th Century. Who knows, you might just catch the home's former co-star Dan Aykroyd nosing around the place (the guy is a huge ghost freak, after all).