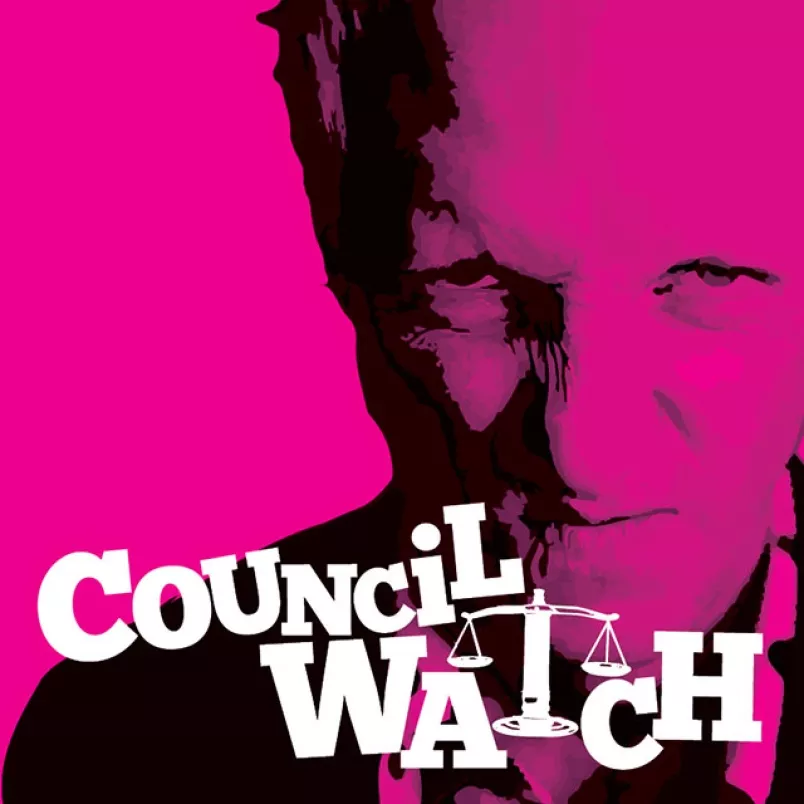 Because sometimes you just forget about dates and stuff, we somehow misjudged that there would NOT be a meeting of our favorite City Council this week, even though it's St. Patrick's day and raining and everyone is wet-drunk. To remedy our oversight, we've decided to – as we have on random occasions before – liveblog the sound of paint drying or the appearance of water boiling or, uh, the City Council meeting. We're not actually there, see, because we're hunkered down (and putting out an issue WHICH INCLUDES A SUPERFUN LOOKBACK AT THE CAREER OF COMMISSIONER DAISY LYNUM that will be out on Wednesday); instead, we're watching a livestream. Things we're looking at right now: Uh, special presentation about Michelle Obama and fitness is scheduled. Also, there's a really weird consent item that involves The Ivanhoe Foundation Inc., which leases the old Dr. Phillips building in Ivanhoe from OUC and to the Orlando Ballet, spending $200k to help the ballet relocate. This comes after DPAC press-released that they'd be throwing $150k at the ballet so it can perform in the Disney Theater at the new performing arts center. Somehow, we fear, even that may not be enough to save the ballet, which just lost its interim leader, Ron Legler, to a PAC in Baltimore.
Uh-oh, it's on!
2:06 p.m: We're talking about "Let's Move" via Obama via someone named Lisa. We've made a lot of progress "to help contribute to solving our nation's and our city's childhood obesity problem." Mmm-hmm. 47 playgrounds, 43 tennis courts, 11 swimming pools, 3,000 kids on city sports leagues. SPORTS! SOME PEOPLE PLAY SOCCER. BECAUSE ORLANDO CITY SOCCER saved the city. Dragonboating! What's that? Oh, and thanks to nutrition classes from "Miss Ruby," 150 after school kids can now cook. ONLY HEALTHY FOOD, THO. 4,000 kids eat at rec centers and eat at afterschool programs. KIDS. EATING. I'm bored already. Where's Michelle?
OH, Michelle Obama wrote a VERY PERSONAL letter to Dyer and Co., "leaders like these," and their ability to give children happy healthy futures. Also, a bunch of people are posing for a photo op, but it's not really that many people (though it may be all the people in attendance).
2:12 p.m.: We're celebrating Paul Lewis spending 25 years at the city, mostly as a city planner, but also AS AN INTERN. He helped create a land use database. He's pretty great, says everyone.
Paul collects bobbleheads.
Paul does not give speeches. He's a planner, not a fanner.
MAYOR'S UPDATE!!! State of the City will be on Thursday, April 10. Following, you can walk around a SunRail train and pretend you're going to ride it. It will be operational on May 1. Oooooh, Gov. Scott was here today and totes hung out with the mayor to announce the growth of a new tech company in the Downtown.
March Madness is back in Orlando. We're hosting second and third rounds. Sports! Don't even know what that means. But the Gators are playing on Thursday.
Leu Gardens has been selected by Macy's for being awesome. You can donate at Macy's at Fashion Square and the company will match up to $250k.
OFD is getting $30k to give out smoke detectors. OPD is getting $100k to bust jaywalkers, basically. And here comes a  SunRail update. Yawn.
WE NEED TO "BURN-IN" THE VEHICLES, which doesn't sound dangerous at all. That's why they've been running around yet still exempt from train shots at most local watering holes.
Let's talk some numbers, says lady! $700 million projects under construction, $640 mill pending, for developments along the route.
LET'S TALK ABOUT TICKET VENDING MACHINES! They're going to sell things that look like credit/debit cards to make your trip to DeBary more convenient. You'll get charged by how many counties. Sanford to Downtown Orlando is $3.50. DEEP DISCOUNTS for longterm passes. We already know all of this, so forgive us if we aren't excited.
They ran a commercial and now the website is getting like THOUSANDS of hits. Someone actually believes that this will be transferred into numbers of actual people. Oh, and Hispanic people in Osceola for Phase II. We don't even need Phase II until the whole thing is bilingual.
10k passes have already been sold. SO IT'S SO POPULAR. SunRail is targeting the condopeople of course. And the "skyscraper" types.
CITY EMPLOYEES WILL GET A 50 PERCENT REIMBURSEMENT IF THEY RIDE SUNRAIL. Sounds fishy.
Wait, Grand Opening "WHISTLESTOP TOUR," is April 30. Now a roundup of Lymmo expansion, LYNX, Hertz 24/7 and Bikeshare, all things you can look forward to reading about in our ANNUAL MANUAL when it comes out shortly.
We need to be careful about safety issues: Dumb people on cellphones walking in front of trains, off backs of trains, into each other.
DeBary and DeLand are now actually places. Did you know that?
DAISY IS TALKING. "THIS WAS A GREAT REPORT. I HAD SO MANY CALLS FROM MY FRIENDS AND CONSTITUENTS. I REFER TO SUNRAIL AS A LADY! I HAVEN'T SEEN A MAN WALK AROUND IN A WHITE DRESS LIKE THAT!!!!! DAISY, I SAW YOUR TRAIN!"
Unbelievable.
Daisy believes Light Rail is on the horizon now. Daisy is the heart of this city. Daisy is a community unto herself. Her arms are rail lines. Wait, did I just say that?
"FDOT has not always been my favorite agency" - Daisy has spoken.
TONY ORTIZ'S MUSTACHE is fine with bilingual and all - naturally - but worried about Hatians and Portuguese people. Thanks, Tony.
COMMISSIONER INGS "AND ALSO" IS SPEAKING, playing up on the double decker feature, and how it affects handicapped folks. Wheelchairs are FIRST FLOOR ONLY. Also, bathrooms on trains, not in stations. FREE WI-FI! Two providers, unlike Michael Bolton.
Sam Ings wants to ride to every stop. But there's a weird thing about having to stay on the WHOLE time if you get on in DeLand. BASICALLY, YOU'RE STUCK ON A MOTHERFUCKING TRAIN. "Somebody told me that you were the great MAYOR BUDDY DYER," says Ings.
COMMISSIONER SHEEHAN: nights and weekends. Let's just say that Patty is wearing the best St. Patty's outfit/scarf ever. She is, however, not happy about the lack of flexibility on time. "The start of SunRail is the start of a conversation," says flack, signifying nothing.
After seven years, locals WILL BE FUNDING SunRail, so maybe weekends will cost a lot and maybe Sheehan could TAXHATERS mad. Flack says "conversation" again. Sheehan is not having it. She is talking about Magic games on the weekend. Flack says Magic would be willing to help fund further FDOT service, BECAUSE THEY ARE MILLIONAIRES WHO HATE GAYS. Everybody else is concerned about going to the Winter Park art festival. Sheehan is totally bottom-lining. LIKE, WILL WE GET THE MONEY FOR WEEKEND SERVICE, even if the Magic pays for it. "THAT'S A CONVERSATION FOR ANOTHER DAY. THAT WILL BE A WONDERFUL PROBLEM TO HAVE IN THE FUTURE," says flack. WOW.
COMMISSIONER STUART: also a little grumpy. Every two hours in the day time? Scoff. But, forboding, the I-4 Construction Nightmare is forthcoming. Everyone will want to be on a train.
OH, IT'S 2:50 P.M. NOW, AND WE'RE STILL TALKING ABOUT SUNRAIL. I may die.
I refuse to talk any more about a train I will never ride. BREAK.
This person, "Christine," has been "everything transportation for the last number of years" for the city and this was her last act because she got a better job. SHEESH.
3 P.M.! JIM GRAY LOVES HIS COMMUNITY MEETINGS, "WILL BE BRIEF."
3:02 p.m.: Ortiz says he concurs with Gray, "We have the best staff in the world." Ortiz went to a memorial service, is happy about a wetlands cleanup, Semoran might get an arts and crafts festival (Ortiz wants it to be a "farmers market" like at Eola), SeaWorld helped some lady who got stuck in the mud. OH, AND THE ROBERTO CLEMENTE MURAL IS BACK, BACK, BACK. Still don't know who did the vandalism in the first place.
3:05 p.m: Robert Stuart is glad he gets to be fake-Irish today. He loved the Leu Gardens plant sale that attracted 10k people. Stuart love OPD and "Operation Lock it Up," wherein we tell people to lock their cars and houses. SO THE COPS ARE CHECKING TO SEE IF YOUR CAR IS LOCKED. That's not creepy at all. Congrats to Harbor House and Walk a Mile in Her Shoes and $20k and making Robert Stuart wear women's shoes. Audubon's weird sip and stroll in which you pretend what holiday it is might be fun, and an Obamacare meeting coming, because fun.
3:08 p.m.: HAPPY ST. PATTY'S DAY. Concerned about Fern Creek Elementary closing. Not on agenda, but she's raising the issue. We knew she was going to do this, and she just said "white flight," and Patty is having a St. Patty moment.
"I will not support sales tax initiatives to build these K-8 superschools to kill our neighborhood schools."
On agenda, Dick Batchelor will be serving on a board on affordable housing, and that's a good thing. Relax grill will have offices in old Eola offices. Some nonsense about "substandard lot" infill.
3:14 p.m.: DAISY DOESN'T THINK IT'S APPROPRIATE TO TALK ABOUT SCHOOLS IN CITY COUNCIL. She is talking about "discrimination" and "hatefulness" and seems like she doesn't care about Fern Creek closing. In fact, she applauds the "downtown" (Parramore) K-8 school. "Hopefully it will restore some sense of the whole community." She's gonna support the half-penny tax because Parramore is dying.
THERE HAS NOW BEEN A 'DRIVING MISS DAISY' JOKE AND DAISY DIDN'T REALLY LIKE IT, BUT IT'S OK, SHE SAYS.
Daisy had a 'no' vote, but she changed it to a 'yes,' because minority workers, but still. It's about Citrus Bowl installations, but she was somehow convinced by legal to change her vote because, you know, whatever.
3:20 p.m.: Sam Ings just did a musical "do do do do do do do do" when he couldn't find the index card carrying the superfluous backstroking he was planning for some institution. But then he found it. And said, "education pipeline" as it relates with "the weather." I don't even know.
OH, SAM INGS IS TALKING ABOUT THE WEIRD ORANGE COUNTY CHARTER AMENDMENT BY FRED BRUMMER; THAT AMENDMENT DIED LAST WEEK, BUT STILL. THERE WILL BE A MEETING ABOUT WHAT IT ALL MEANS.
OK, CONSENT AGENDA HAS ENDED. NOW IT'S ALL ABOUT THE CRA MEETING. WHICH MEANS, UH-OH, NOTHING.
But not really. City parks and rec is after $25k for a new soundboard for Lake Eola Amphitheater sound system. The CRA will pay half of a matching grant; parks and rec the other half. EXCITING.
3:30 p.m.: Thomas Chatmon is talking about the Downtown Strategic Transition Team and all that it accomplished (except for all those things they were hoping to increase: drinking hours, retail). 144 of 166 actions have been implemented or are in process. Chatmon is talking about "consensus" about redeveloping downtown as a "commercial core," which is basically a 10-year-old idea. Now we want to "maintain that edge" with PROJECT DTO, which is the same thing but different because acronym.
"Downtown Identity," "Economic Competitiveness," "Access," "Urban Lifestyle and Tourism," "Urban Amenities and open space," "Sustainability," "Social Fabric" (churches!), "Neighborhoods and Historic Preservation," "Arts and Culture": These are our catchphrases of the now. Got it? Good.
BUSKING AND STREET ART. THAT'S RIGHT. THINGS WE DON'T ALLOW ARE IN THE WORKS.
Patty Sheehan was not in the loop on the historic preservation piece, and now feels like she should have had more input. "ESPECIALLY WITH OUR BAD TRACK RECORD ON HISTORIC PRESERVATION." Ha, I know an historic house that's been empty for a while.
"Progress is great, but I don't think that we have to do it at the expense of our history," – Patty Sheehan lands on the moon.
Daisy is reflecting on "THE PAST 16 YEARS" again, but now she's talking about "moving downtown" and "adjusting to downtown" like it's the same as "moving near the airport." "There's noise, there's people. But those are the very things we wanted to bring downtown." In other words, your $1 million mansion is near a slum.
3:45 p.m.: SOUNDPROOF EVERYTHING.
OK, all that's left are some horrible annexing ordinances and corrections of scriveners errors and an empty room. HAPPY ST. PATRICK'S DAY. Hope you feel better about your knowledge of Orlando right now. I KNOW I DO. XOBILLY.