Well, SXSW is over and your trusty correspondent is sick as a dog after exhausting all reserves of energy by enjoying more than 80 sets from 50-plus bands spread out across five days. If you're willing to hit SXSW with everything you've got, the rewards are endless. Here's what I enjoyed on Friday and Saturday:
Hundred Waters at SXSW 2014
Hundred Waters at SXSW 2014
• Gainesville quartet Hundred Waters overcame minor sound issues to present new material from their forthcoming album at Pitchfork's official Friday night showcase at Central Presbyterian Church. Although the band's music can be challenging, mixing classical piano, trip-hop, electro-folk and a thousand other discrete elements, watching (and listening to) Nicole Miglis and company build sonic landscapes that then deconstruct, reconstitute and climax is a sight (and sound) to behold.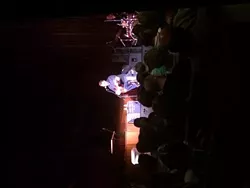 Mark Kozelek at SXSW 2014
Mark Kozelek at SXSW 2014
• Other highlights from the Pitchfork Central Presbyterian Church show included EMA's cathartic set of indescribable alt-rock/sparse avant-pop; Angel Olsen's hair-raising vocals and jangly psych-pop songs; and Mark Kozelek (of Red House Painters and Sun Kil Moon) performing his sad-eyed, portrait-of-the-artist-as-a-middle-aged-man acoustic beauties to a reverent, pin-drop-silent crowd, along with heckling the Pitchfork writers and editors present ("Why can't you guys just give out 10s, man?"). The best part of the evening, however, was the venue's no-frills setup: no alcohol, no branding, no small talk, no scene
just a sacrosanct focus on the unadulterated enjoyment of quality live music.
• Once again I pedaled the four or so miles south of downtown and arrived too late for Wet Nurse's final house party set of SXSW on Friday — I owe Nina, Susanna, and Vanessa big time. But the fact that these kick-ass women are touring the Midwest through March and opening for and performing with other kick-ass women such as Ex Hex, Tacocat, Waxahatchee, Swearin', and Potty Mouth only bodes well for their future.
Roadkill Ghost Choir at SXSW 2014
Roadkill Ghost Choir at SXSW 2014
• DeLand's Roadkill Ghost Choir lit up a mid-afternoon set at Side Bar for Georgia Theatre's Still Standing?! Day Party on Saturday. A fellow DeLand native and I debated the right touchstones for this five-piece's ragged Southern rock sound — My Morning Jacket? Dead Confederate? Wilco? Nirvana? — before settling in and savoring the howling punk undertones and weeping pedal steel beauty of their songs. I don't know when this band of three brothers and three friends will release its full-length debut, but it's going to be a hit when it happens.
• Leaving Side Bar, I was stopped in my tracks by the gleeful orchestral rock of Arc Iris, which featured cellos, trumpets and more smiles per capita from the six-piece band than I'd seen all week. In a way, these happy accidents are what SXSW is all about. I didn't even know the band was fronted by former Low Anthem (a band I love) member Jocie Adams until I got home and Google'd it.
Perfect Pussy at SXSW 2014
Perfect Pussy at SXSW 2014
• The weirdest experience I had all week came when I ducked into Red 7 Patio to catch Perfect Pussy's Friday night set. Not only was there no line for one of the year's biggest buzz bands (NPR and Pitchfork showcase performances, tons of online hype), but the crowd was one of the weirdest I've ever stood amongst. While Meredith Graves and company ripped the snot out of some of the most aggressive, noisy hardcore punk on the planet — Graves' comment to the sound guy before they started was, "Make it pretty much as loud and awful as you can" — the mostly middle-aged platinum badge crowd stood stock still, barely pumping a fist or bobbing a head while making painful "oh my god my ears hurt!" motions to each other. Understandably, the band walked off stage after 15 minutes without so much as a nod toward the crowd. And this from a band whose bassist threw his instrument into the Colorado River during a raging late-night secret show with Ex Hex and Nothing on a pedestrian bridge the night before.
Reigning Sound at SXSW 2014
Reigning Sound at SXSW 2014
• Soulful Memphis blues band Reigning Sound capped off an epic Brixton/Juxtapoz party at Yellow Jacket Social Club in East Austin on Friday night. I wish I had ventured out by the CapMetro train tracks earlier, though, as the club's tiny indoor dive bar and massive outdoor space were perfect for the hundreds of bikers, rockers, hipsters and crusty punks gathered there in a dirty antidote to downtown's scrubbed-clean corporate feel.
Future Islands at SXSW 2014
Future Islands at SXSW 2014
• Speaking of, branded fiascos dominated this year's SXSW landscape — Fader Fort, Hype Hotel, Spotify House, Doritos Bold Stage, etc. etc. ad nauseam. But the smoothest operation I saw was at Spin's Stubb's BBQ Day Party on Friday. Complimentary brunch, free cider, orderly entrance requirements and even deference to requests from members of the press all felt shockingly gracious. Even better were rocking performances from Chicago punks the Orwells, Cleveland alt-destroyers Cloud Nothings, and black-clad British psych revivalists Temples; further life-affirming sets from Future Islands and Against Me!, two of the best bands performing all week; and shout-out-worthy hip-hop appearances from Future and Schoolboy Q.
• The refreshingly unpretentious Airbnb space in East Austin also delivered. Sure, there were pop-up apartments and selfie stations and all that techno jazz, but the free vodka, rocking DJs and copious elbow space were a nice diversion on Saturday, the most crowded day of SXSW.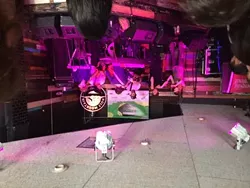 Mutual Benefit at SXSW 2014
Mutual Benefit at SXSW 2014
• The light rain that fell Saturday afternoon was the perfect backdrop to two artists performing at Holy Mountain on East 7th Street for St. Jerome's Laneway Festival Day Party. The pristine chamber folk of Mutual Benefit, including not one but two weeping violins and pitter-pattering percussion, seemed far fuller in the venue's cavernous front room than when I saw them a few months back at a sold-out set. And the grimy technological constructions of U.K. producer Matthew Barnes, who performs as Forest Swords, had a big daytime crowd dancing only an hour later. As a hesitant fan of electronic music, I was impressed by how much work goes into the live performance of blips, bloops, samples, especially when live instrumentation is added to the mix.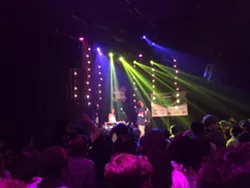 Stones Throw Showcase at SXSW 2014
Stones Throw Showcase at SXSW 2014
• Although I caught only one rapper (Knxwledge) at the Stones Throw Records showcase at the North Door on Saturday night, I was still impressed at the laid-back vibe that permeated the show — even as a crushing crowd formed to sample acclaimed DJ Madlib and hip-hop king Prince Paul's late-night sets. I've heard great things about the label's recent documentary, Our Vinyl Weighs a Ton, and can't wait to check it out.
• Nashville garage rockers Natural Child had a cool 500 or so diehard fans crammed into Hotel Vegas (with another 75 or so waiting in line outside) on Saturday night — and this is a band that played what seemed like 55 shows over the entire week. Evolving from grungy hell-raisers to countrified soul men, look for these Florida lovers to break out from their Burger Records shell and achieve mainstream success in 2014.
• I had three serious cases of FOMO (fear of missing out) inflicted upon me last week: missing the aforementioned Perfect Pussy bridge show; not hearing bounce queen Big Freedia's ass-tastic set at the Doritos Bold Stage; and not bothering to check Future Islands' social media accounts for their unannounced 8th show of the week at comfy East Austin dive Longbranch Inn. But I rectified that situation by choosing the best possible way to end my SXSW — at Longbranch on Saturday night garage-rock legend Kid Congo Powers' 55th Birthday Party.
Vockah Redu at SXSW 2014
Not only was the party totally free and relatively uncrowded, but two sets were damn near life-changing: first, New Orleans legend (and Freedia associate) Vockah Redu's sweaty, insane bounce/mash-up/street rap performance, during which my wife was the first fan pulled on stage to bounce on top of the skeleton jumpsuit-adorned and insanely ripped Redu. And second, New York DJ Jonathan Toubin's New York Night Train bar-closing soul party, during which the pinstripe-suit-clad Toubin spins crackling old 45s to make two-left-feet guys like me who've danced a collective 30 minutes in their entire lives get down for an hour straight like it's our only calling in life.
I don't know that I've had that much fun in my entire life — best of all, other than taking advantage of the insane dearth of musical talent in Austin last week, the party had nothing to do with SXSW. Which just goes to show that a smorgasbord like SXSW is what you make of it.