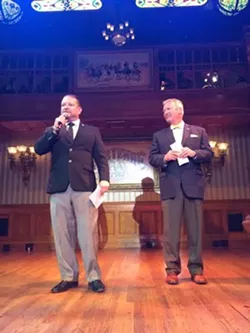 Mayor Dyer and Ron Legler introduce the 2014-2015 FTA Fairwinds Orlando Broadway season at DPAC (photos by Seth Kubersky)
Mayor Dyer and Ron Legler introduce the 2014-2015 FTA Fairwinds Orlando Broadway season at DPAC (photos by Seth Kubersky)
Orlando's high-rolling arts supporters -- including His Honor Buddy Dyer in a bow tie -- showed up at Church Street Station's spectacular Cheyene Saloon tonight (March 18) to learn the lineup of Broadway series touring musicals that will make up the inagural slate on the Dr. Phillips Performing Arts Center's Walt Disney Stage. The mayor and DPAC president Kathy Ramsberger were there to introduce departing Florida Theatrical Association's Ron Legler, who is leaving to take on similar duties at Baltimore's Hippodrome, as he announced Orlando's upcoming Fairwinds Broadway Across America season for the final time.
Here's the complete lineup of shows in the Florida Theatrical Association/Fairwinds Broadway Across America 2014-2015 series:
The Phantom of the Opera (Dec 3-14, 2014)

Newsies (Jan 27, 2014-Feb 1, 2015)

Motown The Musical (Mar 10-15, 2015)

Pippin (April 21-26, 2015)

Anything Goes (May 26-31, 2015)

I Love Lucy Live on Stage (June 23-28, 2015)
Two additional shows are "season options" and not included in Broadway series subscriptions:
The Book of Mormon (Dec 26, 2014-Jan 4, 2015)

Beauty and the Beast (May 12-17, 2015)
The cast of Broadway's Motown performs at the FTA season announcement.
The announcement concluded with a live performance from the cast of Motown The Musical, which tells the story of the fabled record company through classic hits and new songs by Berry Gordy. Enjoy this recording of their entire performance:
[youtube _MpsInngmAA]