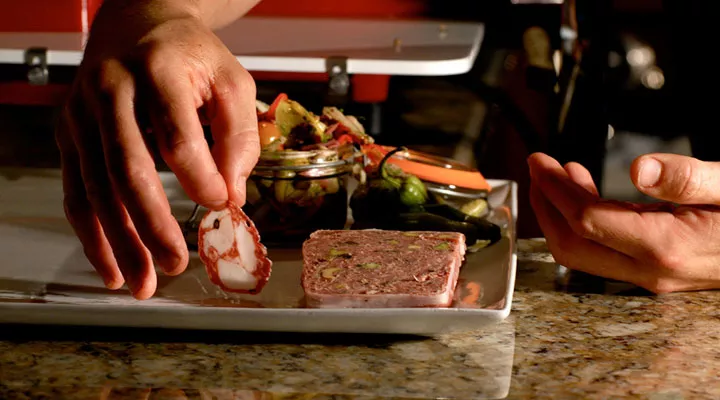 Local meat purveyor Cuts and Craft offers a monthly
Local meat purveyor Cuts and Craft offers a monthly
Butcher's Box
.
Carnivores! Paleo people! Occasional vegan cheaters! Gather 'round and listen up.
Sign up now for Cuts & Craft's Butcher's Box, "a monthly offering of Southern-sourced, responsibly raised meats." Husband-and-wife team Rhys and Alexia Gawlak are using the CSA (community-supported agriculture) business model, in which farmers pre-sell "shares" of their anticipated crop directly to consumers at the beginning of the season, before the crop is actually harvested, to launch this monthly meat share. "We are using this model in this situation to ensure that no part of our hog goes to waste. Our goal is to get as close to 100 percent utilization as possible," says Gawlak. This month's box will include a rolled and tied pork loin roast stuffed with orange and fennel, smoked bacon, head cheese, fresh sausage links, smoked ham and a quart of roasted pork stock. Sign up at the Local Roots website.
"Drive-thru meat market": yes, you read that right. Zaycon Foods is "an alternative to the grocery store where you do not need to wander the aisles or even get out of the car," according to their PR pitch, and customers pay wholesale prices, with a typical 50 percent discount over retail meat departments. Place a pre-paid online order for your proteins including chicken, ground beef, ham, bacon and fish (offered in bulk —  cases of 15 to 40 pounds, depending on the item), show up on the scheduled day to the designated parking lot, and they'll unload your order from a refrigerated truck directly into your car, using "volunteers who do the heavy lifting in exchange for free product." (Is it just me, or does this sort of sound like the drug-buy business model? Anyway.) Zaycon says the meat is "picked up directly from ranchers and processors as little as one day before the delivery date" and  "hormone-free and fresh – not frozen – where possible." So clear out that chest freezer.  The next Florida events run through the second week of April, offering ground beef and ham — sign up at the Zaycon site.
The Brochette Express is a few days into its Kickstarter funding round. Invented and manufactured in Orlando, it's a kitchen tool that allows you to prepare 16 skewers/kebabs/brochettes/pintxos/whatever you choose to call meat on a stick at one time. Check out the video below and if you're into it, go sign up at their Kickstarter to pre-order. Skewer revolution!